Week in Review: Week 13
Today marks our third month of travel! Hard to believe that three months ago we landed in Frankfurt. This crazy trip didn't seem like a reality until we took those first few steps off the plane, and now, fast forward three months later, we are in Bucharest, Romania! For some reason, this last week it really hit us and so many times we would look at each other and say "We are in Romania, how crazy is that?!". It's been such a fun adventure, and we are so fortunate and appreciative for all of the awesome experiences we have had so far.
Highlight of the week
Sharleen and Darrell: Transfăgărășan Highway. According to Top Gear, this is the most spectacular road in the world. It was pretty intense! It was originally created as a military route, but is now a paved highway in Romania, stretching about 90 km. It takes you over the mountains, climbing to an altitude of 2,042 meters, and is full of hairpin turns, S-curves, tunnels, and amazing views! It actually has Romania's largest tunnel, which is 884 meters...seems like a baby tunnel after some of the 13 and 15 km tunnels we have driven through in Norway and Austria! But don't let the short tunnels fool you - this is a crazy road. We actually lucked out because 25 km of the road is actually closed for 8 months of the year. It closes on October 31 and doesn't re-open until July 1st. This is for safety reasons due to large amounts of snow and avalanche protection. So our timing was perfect to be able to visit!
It didn't look that far from our Airbnb, but we had to drive close to 6 hours before we started the intense part of the road. Then, it took us about 3.5 hours to drive 40 km, mainly because we would stop every 300 meters for pictures. The curvy road situated in the scenic mountains was so cool, especially in the areas where the fog and clouds were hanging low. We drove from south to north, and the iconic Transfăgărășan view comes right around the Bâlea Lake. We exited the tunnel right at the lake and unfortunately it was super foggy. So foggy we actually didn't see the glacial lake, and we almost missed the crazy lookout point for the road. Because of the fog, we couldn't see the road below. But after catching glimpses from our foggy viewpoint, we decided to wait it out and see if the clouds would pass. Sure enough, after 30 minutes and a bit of rain, the fog slowly disappeared and we were treated to some awesome views! We were so happy we stayed, as the road looked so intense and we travelled so far. It would have been a shame if we couldn't get a few pictures of this part. The drive down was super fun, and some of the best parts were looking at our Tom Tom and seeing how crazy the upcoming sections were.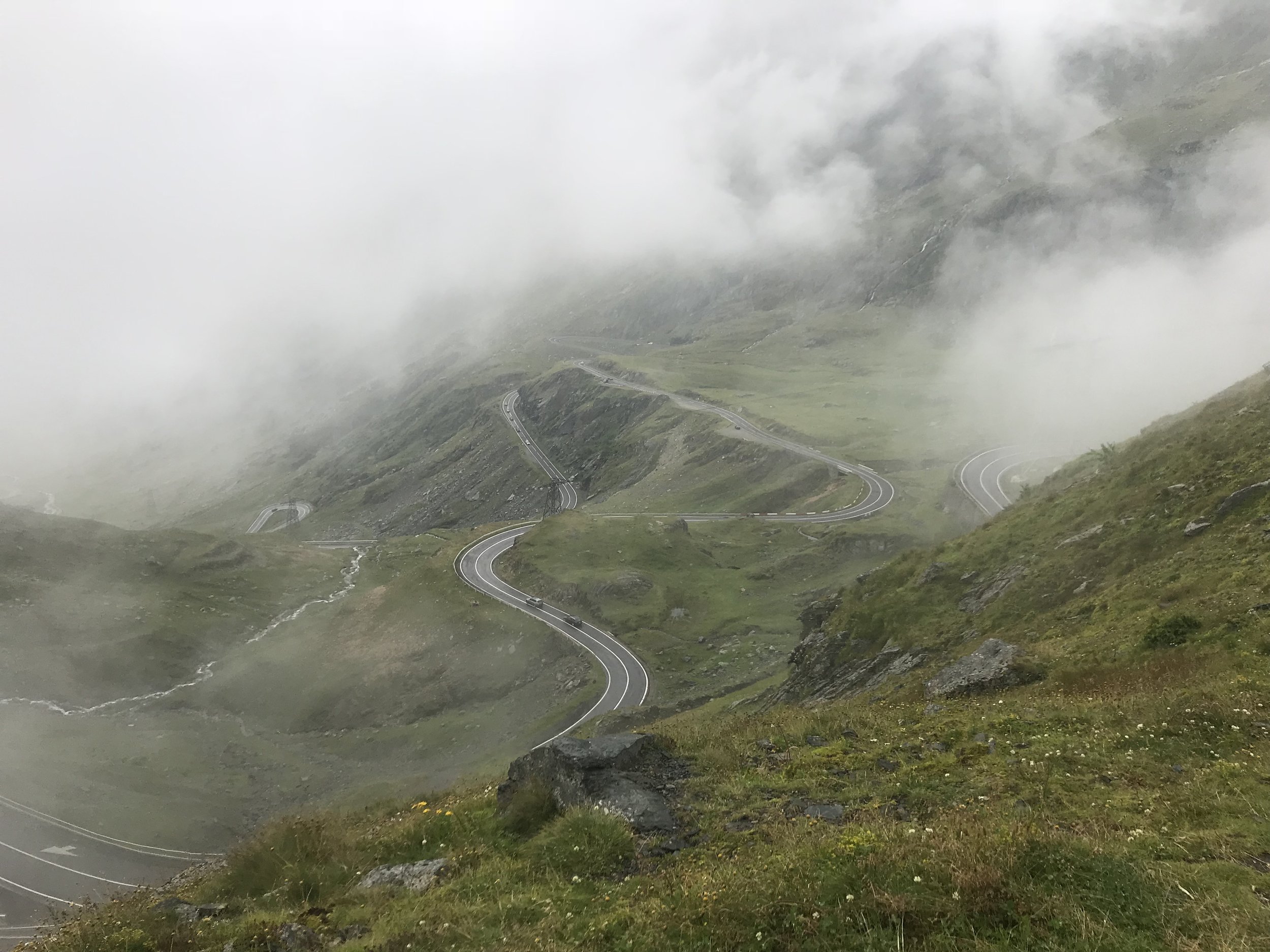 We put a link to the google map below so you can check out the road for yourself! Zoom in and check out the road, especially starting at the Barajul Vidraru Dam in the south, all the way up until the road ends in the north.
Least favourite part of the week
Sharleen: Leaving Bușteni. Over the last two weeks we had some down time in this cute town in the Bucegi Mountains of Romania. Which, it turns out, is in Prahova and not Transylvania.... the more you know. We stayed in a hostel style Airbnb with our travel buddies Arpad and Jess. They were there for 15 days as well, and all four of us were excited to have some down time in the mountains. Our Airbnb was awesome, and it made our time over these last few weeks really memorable. When we first got to Bușteni, we all kind of wondered what we would do in the small town for 15 days, but by the end, we were all getting a bit sad to leave. Our Airbnb host Simona, and her parents, were so welcoming and hospitable, we truly felt like part of the family. They were very generous and invited us to two family barbeques. They made us numerous desserts and treats, shared homemade wine and ţuică (home made moonshine) with us. They let us know when the bears and other wildlife were outside, spent countless hours chatting with us and laughing with us, and taught us so many things about Romania. For example; what it was like for them in Romania now and in the past. We truly had a blast with them! Our last day was sad, as it was hard to say goodbye, especially because we don't know if or when we will see each other again. Simona and her family left us with nothing but great memories and full hearts, and we are so appreciative for their kindness. We said a tearful goodbye as we left yesterday, but we hope it's not the last time we see them.
On top of it, they had three super cute dogs (one of which was a frenchie) so leaving after 15 days of cuddles and pets just made it that much more tough! Definitely made us miss our puppers at home in Canada.
Darrell: Issues with our car tire. While we were on our road trip on the Transfăgărășan Highway, just as we headed down the last section, we noticed a small bulge on the sidewall of one of our tires. It was pretty crappy as we still have 1.5 months of driving to do, and the tire definitely needs to be replaced or it will likely burst. We have leased a car from Renault, and it includes 100% insurance and roadside assistance, so when we got home from the trip we parked the car and called the assistance number. We explained that we felt safe driving the car home, but we know it's just a matter of time before the car tire pops and we want to be proactive and have it fixed before it gets worse or causes more damage.
It's been a bit of a headache, and after a week we still have the same tire. We've called the customer support line, and they have been friendly but it doesn't seem like they know how to resolve the issue. We think they are use to dealing with emergencies and accidents, not many of these "non-urgent" issues. On Thursday, on our way to Bucharest, we stopped at two Renault servicing centers and neither place had tires in stock. It looks like it will take 3-5 business days to get a tire in, and then we would need to find a time for servicing. One place said they are booking at the end of August for that! So our next step is going to be a little less proactive and a bit more "you figure it out" with Renault's assistance line. We are kind of hoping they will figure out where we need to go, on what day, to have this resolved. We've spent close to 5 hours trying to resolve this with no luck, so we are hoping they can get a better solution before the tire becomes a real emergency.
Favourite city/town/village visited
Sharleen and Darrell: Bușteni was our favourite town last week, and we honestly didn't leave it this week, other than to drive the road! So it remains our favourite this week. Some of our favourite things here were related to where we stayed in town. We were close enough to walk into town (less than a 10 min walk) but we were right on the edge of town next to a huge forest. It was so beautiful and calm. Some of the highlights we enjoyed form this last week were:
being able to sit on our private balcony and watch the stars and the blood moon
waking up and having our morning coffee in front of the forest, as we watched the neighbourhood cow on her morning walks. It was actually adorable, a man would walk his cow around the neighbourhood at least a couple of times a day.
waiting for 8:30 pm ‪to roll around, when the bears and other forest wildlife would come out and in front of the house. We didn't get any bear action this week, but a fox came right under the fence and to the front door our our Airbnb as we were in the kitchen playing cards. We got a front row view! It was pretty cute, but we weren't fast enough for pictures.
the calmness and quietness of the outdoors, mixed with the constant smell of burning wood. It reminded us of camping!
socializing with our travel buddies and our amazing hosts.
Favourite meal
Sharleen and Darrell: Family-style Romanian barbecues. We were so lucky to be invited to two barbecues (back to back even!) this week. We couldn't pick one because they were both so amazing. We've mentioned it a few times, but we cannot express how awesome our Airbnb hosts were, and man can they barbecue! We are not sure if we have ever seen so much meat at one time before. There was 4 different kinds of meat, along with grilled vegetables, tzatziki sauce, slow cooked cabbage and tomatoes (done over the heat on the grill), salad, and homemade wine. It took hours for them to grill everything for dinner, and the smell of the charcoal grill was just amazing. We haven't really had barbeque since the end of last summer, so we were so excited! One of our favourite meat was mici, which is a dish of ground beef and pork (sometimes lamb) mixed with a bunch of spices and garlic, and rolled into sausage like shapes. They look like sausages that don't have a casing and they are packed with amazing flavor. With the added smoke from the grill, they were soooo tasty!
We enjoyed the food so much, but the company was just as great. Even though our lack of Romanian meant we could only communicate with Simona, she translated back and forth and we had a wonderful time eating, laughing, and learning about Romania. They were both such special meals.
Our time in the Bucegi mountains was amazing, and now we are back in the city and into urban adventure mode. We've now planned our travels up to the end of September, and we have 7 countries planned over the next 8 weeks! It sounds like a lot, but some are just little stops. We've really appreciated the time we had to relax and unwind a bit, so we have a lot planned but it still won't be as crazy as the first two months of our journey.