Budapest - Our Only Stop in Hungary
Our time in Hungary was quick and quite limited. We left Austria and headed to Budapest, where we spent three full days exploring the city. From there, we headed to Romania so that we could leave the Schengen Area, and ensure we have enough time to head back to Germany in late September.
Before arriving in Budapest, we had heard great things of the city. Everyone we had talked to who had been there before had said they wished they had spent more time in Budapest. We only had three days, but that was the longest we had spent in a large city so far on this trip, so we hoped it would be enough time to see the highlights of the city.
We spent our first day just like we usually do in a new city – walking all over the place. We found a free walking tour online which would take us to some of the iconic Budapest sites, so we planned to follow it for most of the day.
We had a late start to the day and our Airbnb was about a 50 minute transit ride into the city centre, so we got into town right around lunch time. We had heard great things of a place called 0,75 Bistro and Bar, which is located right beside the beautiful St. Stephan's Basilica, so we headed there for lunch and a view of the church. The food was awesome, and we were having flashbacks to our time in Poland, where we had delicious food for very reasonable prices. Usually restaurants situated beside main tourist attractions are quite pricey, but we had a huge lunch and drinks and it only cost us about $30 CDN.
We had full bellies and tons of pictures of the basilica, so we headed off to see more of the city. We ventured towards the Danube so we could cross the beautiful Chain Bridge. It reminded us quite a bit of the bridges in Prague and it definitely had the same number our tourists! From there we walked quite a ways to get towards the Fisherman's Bastion. The Fisherman's Bastion is located on the top of castle hill so it provides an awesome view of the Hungarian Parliament Building. In the same area is the beautiful Matthias church. It has a gorgeous roof with coloured tiles. We both really love how the colored tiles look on buildings. We don't see it too often, so it is a nice treat when we do, which tempts us into taking a bunch of pictures!
It was a busy spot, as it's one of the major tourist destinations for the city, mainly because of the views you get of the Parliament Building. You can pay extra to go through the Fisherman's Bastion and get slightly higher views, but the line to buy tickets was crazy long, never mind how crowded it was once you got up there. We figured we had gotten some pretty good views from the free part, so we didn't wait in line. There is also a restaurant there, which had fantastic views. It would be really nice to have dinner next to a window during sunset. The sunset on our first night was stunning, and we only got to view it from our apartment in the suburbs of Budapest. We could only imagine how gorgeous it would look if you had the beautiful view of the city as a background.
There is a huge market in Budapest called Nagyasarcsarnok, or the Great Market Hall, and we wanted to head there before it closed that evening. It is on the opposite end of town from the Fisherman's Bastion, so we started the walk back through town. On the way, we took our time enjoying the beautiful views of the city. Some parts felt so regal and impressive, we both felt like we could have be in London or New York. We really didn't expect it to look so beautiful. Having said that, there were also sections that were not maintained as well, and areas that unfortunately had a lot of garbage and litter. It was quite sad, as the city would be so gorgeous if people took some time to throw out their garbage.
On the way to the market we stopped for a quick treat at the classic Café Gerbeaud. It's one of the most well know cafes in Budapest, and has been around for over 150 years. We shared a slice of delicious chocolate apricot cake and then continued on our adventure towards the market.
The market was huge! We had arrived about 45 minutes before closing, so we had just enough time to walk through everything and grab some ingredients for dinner. The market is indoors, takes up roughly a whole city block, and has two stories. The main floor has all of the food vendors, and the second floor has souvenirs, household items, clothing, and other knick-knacks. We didn't spend much time on the second floor, as we wanted to make sure we had enough time to get the food items we needed. We were almost overwhelmed with the amount of vendors and items! And everything looked so good! It probably took us 20 minutes of looking around before we finally started buying stuff. The produce, meats, and cheeses looked amazing, so we wanted a nice selection of items to make a charcuterie board at home. It was so hard to choose! The prices were also surprisingly cheap. We ended up buying two full bags of food, and we figured it cost less than $16 CDN. At home, and similar trip to the farmers market would have easily been over $80!
We were excited to taste all of our purchases, not to mention we were quite tired from day one in Budapest, so we headed home after the market. Dinner was awesome, and everything was so fresh and delicious, and if we had to pick a favourite item, it was probably the really tasty blue cheese.
Day two was a special treat, as we were meeting up with friends from Calgary! We were both looking forward to spending the day with other people, and sharing travel stories. Arpad and Jess are travelling Europe for three months before heading to Southeast Asia. They have been on the road for 1.5 months, so we were excited to hear about the places they have visited so far!
Just before meeting up with them, we headed to a DHL to try to send some items home. Since Budapest would be the last major city we would be in for a while, we thought it would make sense for us to evaluate our luggage situation, and send home any items that we might have over packed. We surprisingly had quite a bit! Also, over the last two months we have purchased a few items that we needed for our travels. Our bags were quite full and we wanted to downsize before the middle of September, when we are returning our car and will be carless for a couple of months. All in all, we had almost 5kg of clothing and a few books that we could send home. We found a DHL office and headed there to send the parcel home. We had no idea what the cost would be, neither one of us had ever sent a parcel before, and at this point we didn't even have a box! Everything was in a shopping bag. The lady at DHL was awesome and very friendly. She gave us a box and gave us a price estimate for us. It was going to cost over $200 CDN! We were pretty shocked, we thought it would be maybe $100, but $200 seemed crazy. She could tell we were struggling to make a decision, so she let us know that if we went to the post office just around the corner, we could send it home for probably half the cost. It would take 2-3 weeks, which seemed like a way better option to us, so we decided to go to the post office. The lady was so nice, she even gave us the box for free! So off to the post office we went. The post office was quite interesting. It seems like they do everything there – mail, parcels, lottery tickets, pay fines, etc. So the line was huge. We waited for close to 45 minutes before our number was called. The guy was also so friendly, and he taped up our box and made it super secure for its travel to Canada. All in all it only cost $96 CDN, so it was a way better deal. We were happy to send home some stuff, and to not have it cost us a small fortune.
From the post office we went to meet Arpad and Jess, and we spent the day exploring more of Budapest and chatting away. We went to an island in the middle of the Danube called Margaret Island, where we enjoyed the sun as we exchanged travel stories. We talked so much that by the end of the day our throats were a little sore! We had a quick dinner, and then said goodbye as we took the trains home in separate ways. We were going to see them again soon, as the four of us were heading to Romania together for a few weeks.
On our last day full day in Budapest we decided to head back into town. Since we had such a great lunch the first day, we went back to 0,75 Bistro and Bar and had another amazing lunch! It was a simple cheese and meat platter, with vegetables and some dips. It was so tasty! We sat on the patio and had a relaxing lunch for over 2.5 hours, part of which was spent chatting with an older American couple who have been to 70+ countries! It is always great when you meet new people who can give you tips and insights into places we would like to visit. It was the perfect start to the afternoon. From there we went to the Hungarian Parliament building, as we really didn't see it up close. It is such an impressive building, and we are both fans of the gothic architecture. It was nice to walk around it and get some close up pictures.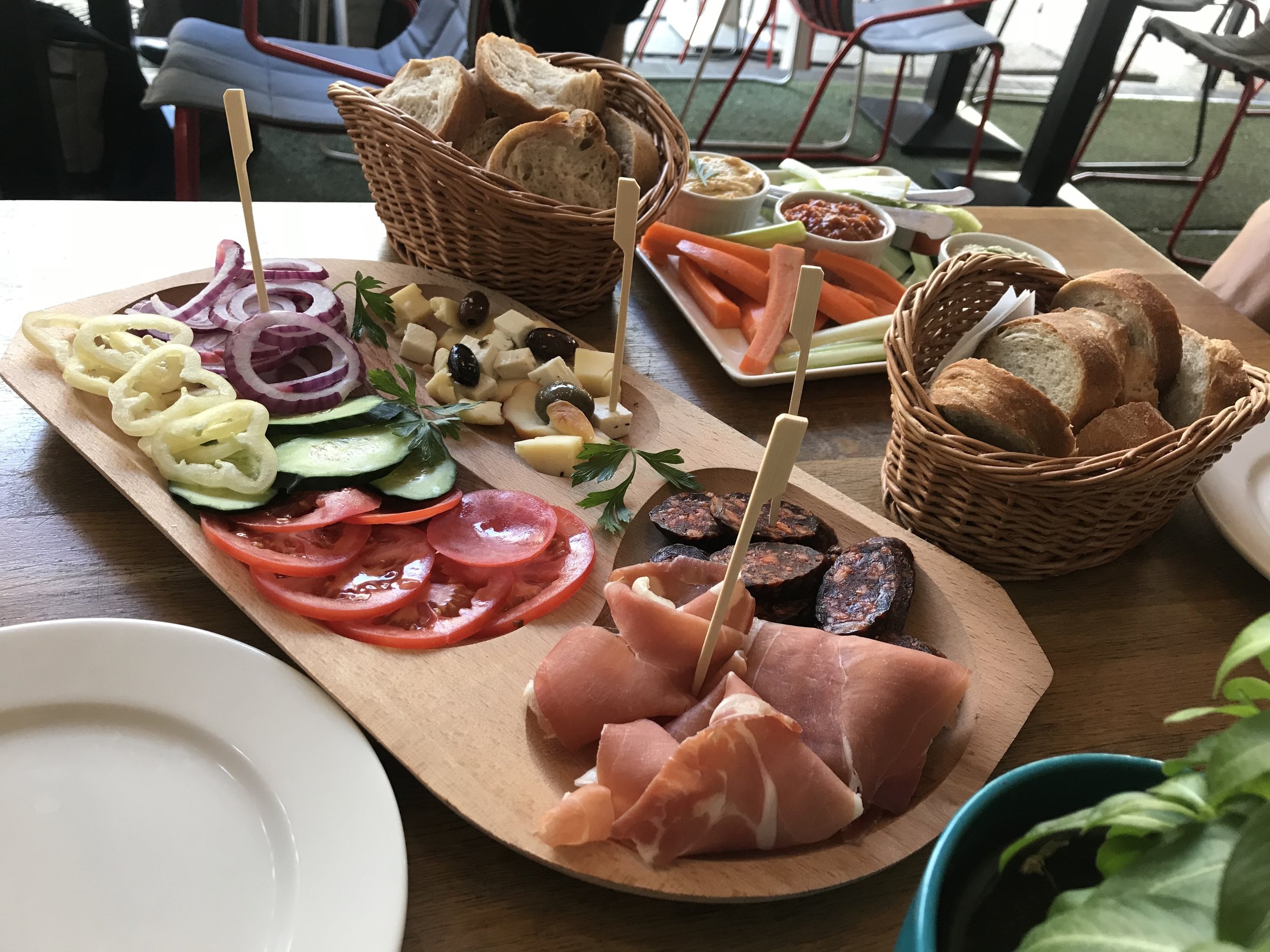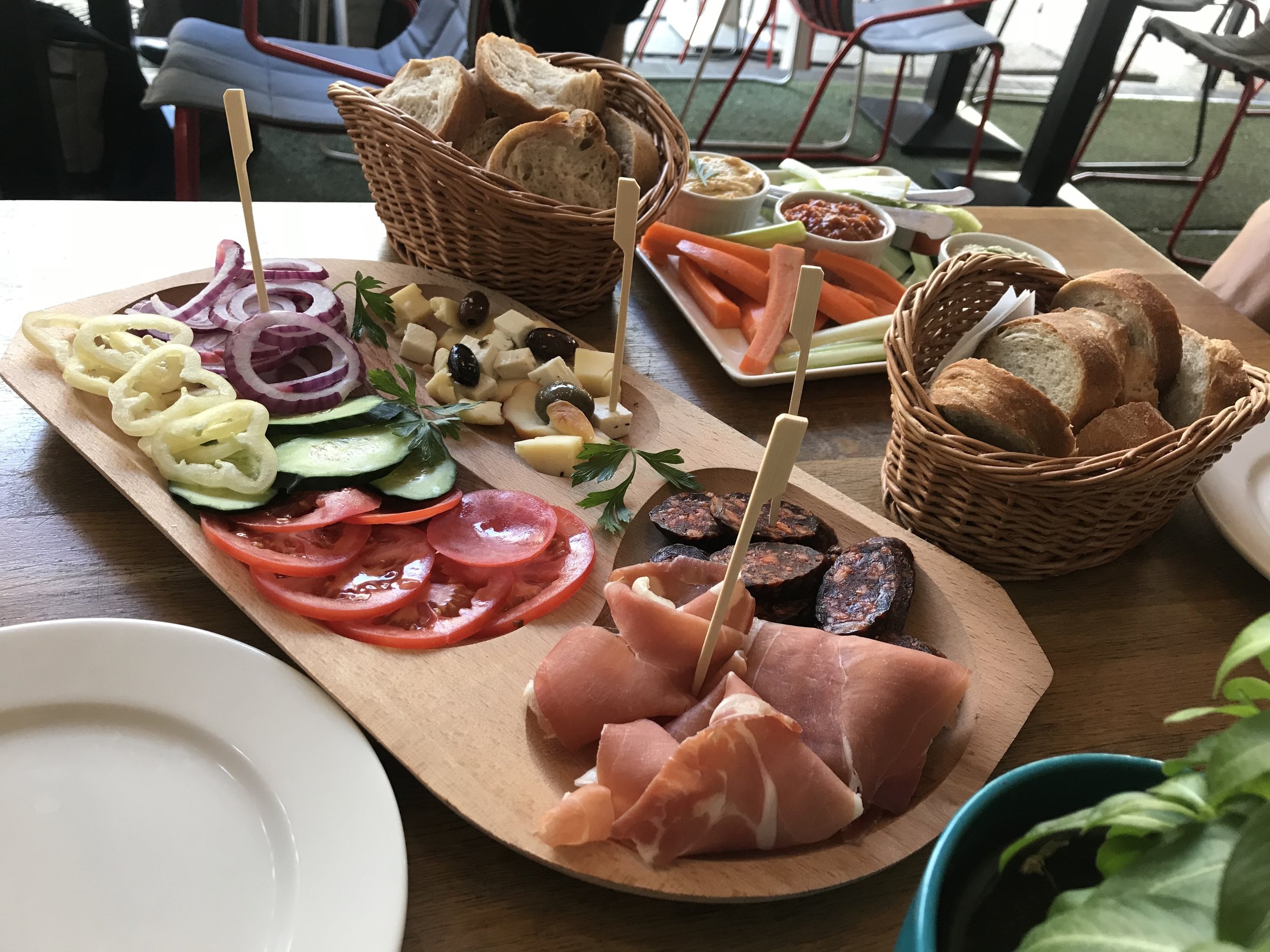 By this time it was already close to 4pm. We had decided that we would try to stay downtown to watch the sunset over the parliament building, so we had another 3-4 hours to explore the city. We headed for the Citadella. It's a huge statue on a forested hill just off the Danube. From here you can get amazing city views and see basically all of Budapest. It took us a while to get there from the Parliament Building, and then another 45 minutes to climb to the top. We stopped at many look out points to take in the beautiful city views. Once at the top it was quite busy with other tourists and people that were out for a nice evening stroll.
We took our time heading down the other side of the hill, again stopping at various viewpoints. We walked along the Danube, and planted ourselves on the water, across from the Parliament Building. We waited here for about an hour, and watched the golden light from sunset light up the building. It was so beautiful! The building really comes alive in the light. We easily took over a thousand pictures before calling it quits, around 8:30, then headed towards home.
We stayed in the suburbs, so it was a solid hour to get home. It really felt like an amazing day, and we both had so much fun relaxing and strolling through Budapest. To top it off, while we were on the tram close to our Airbnb, these three young boys sat down in the seats beside us. They could hear us talking in English and were so excited and curious. They struck up a small conversation with us, in the limited English they knew. They were absolutely adorable. They asked us where we were from, our age, our favourite animal - it was super cute. They were 11 and 12 years old, and all three of them were so friendly and kind. It felt like the perfect way to end our great time in Budapest.
Budapest was a beautiful city. In a lot of ways it reminded us of Prague. It's so nice to walk in town and look at the Parliament Building, the Danube, and the countless bridges that connect Buda and Pest. It was really easy to spend three days here, and there is still so much to do in the city, we just didn't have enough time to check everything out. We've heard great things of the thermal baths, so we will have to add that to the list the next time we visit!