A Quick Stop in Bulgaria
After leaving Romania, our first stop was Bulgaria. It was the start of the Balkan portion of our road trip, and we were excited to explore the area. We opted to explore some of Bulgaria's natural landscapes, and didn't visit some of the larger cities such as Sofia. We had two places in mind - a pit stop to visit the Devetashka Cave, and a few nights in Belogradchik.
Devetashka Cave is a large karst cave, and is between Bucharest and Sofia. It's well known because it provides habitat for over 35,000 bats! It is one of the most important bat caves in Europe, and between June and July the cave is closed to tourists due to the breeding season. It is also home to over 128 mammals, reptiles, and birds - 29 of which are on the IUCN Red List of Threatened Species.
We had seen a picture of the cave when Sharleen was looking into pit stop ideas as we made our way to Belogradchik, but this was the first we had heard of the cave! When we arrived, it didn't look touristy at all. There was small sign on the secondary highway we were on, and when we turned off we took a narrow single-laned road to a small parking lot. There were a few cars parked, but really only around 8. We were happy it was quiet, as we really didn't know how popular the site gets. Tickets were reasonable, costing about $4 CAD each. And there were only a couple of tourist souvenir booth set up, but they were right by the parking lot so they didn't interfere with the site. Something that seemed more common in Romania.
We didn't need to walk far before we could see the cave. It was beautiful from a distance, but even more impressive as we walked up and into the cave. The cave isn't fully enclosed, as there are 4 or 5 large openings in the ceiling that let in a ton of sunlight. The openings allowed sunlight for plant growth, so there were many bright, lush, natural green gardens. There was also a small stream on one side of the cave, surrounded by bright green plants. We were so fortunate on the day we visited, as the sky was clear and you could see bright blue sky in all of the openings. It really made the place look so magical!
There were only a handful of people there, and the cave is quite large so we could take pictures and explore without having people in every spot. At one point it was just us and another couple, and it was great to enjoy the cave in such a calm and peaceful way.
They did a great job with information boards, all of them had English too which was a huge plus! We also found out that a scene from The Expendables 2 was filmed there in 2011. However, after reading more about it, we learned that the filming caused some damage to the cave and bat population, which was disappointing.
Overall we spent about an hour at the cave. We really explored it slowly and took our time enjoying the space. We also had a quick picnic lunch before heading on to Belogradchik. This was probably one of our favourite pit stop so far on the trip! Although it probably wouldn't have been the same if it was super crowded with people.
We had about another 3.5 hours to go before getting to Belogradchik. The drive was very nice, and we were so surprised by the landscapes in northern Bulgaria. It reminded us very much of Arizona, Utah, and other desert type places we have visited. However, mixed into the desert was lush greenery, so it really looked quite beautiful!
We arrived in Belogradchik in the late afternoon, which gave us enough time to go for a nice walk through the town center, and grab some dinner.
Since the rock formations and the ancient fortress are the most popular attraction in Belogradchik, we were advised to head there early to beat the crowds and the heat. Our Airbnb as really close, only a 20-minute walk away from the fortress, which was perfect! We got there just before 10 am, and there were not many people at all. At the entrance, we waited about 10 minutes for a few people to walk into the fortress, and we were able to take a few pictures without anyone in the way. The only down side is that there was a huge stage set up at the entrance of the fortress wall, so it didn't make for the best pictures. The whole fortress is very gorgeous when you can see the entrance of the wall and the fortress together. But the stage didn't really give us an opportunity to see it.
We walked up to the fortress doors, taking in the beautiful views of Belogradchik and nearby rock formations. The scenery was really stunning! Inside, there really are no buildings or rooms, just a few fortress walls mixed in with the large rock formations. The walls are about 2 meters thick, and 12 meters high, so they are very large! The ancient fortress was constructed during the Roman Empire, when it was used as a look out point. Additions were made to it in the 14th and 19th century, when the fortress was considered an important stronghold in the region.
Once inside, we had a blast exploring the whole area. Nothing is off limits, so we could climb, jump, and crawl around everywhere. It was actually super fun! There were tons of look out points to see Belogradchik, the rock formations, and the mountains in the distance. We were quite surprised with the lack of safety measures in place. There were little fences up near some of the dangerous cliffs, but the fences were very small and not strong. They served more of a "try not to go here" than a "do not stand past this point". And at most cliff ledges or deep rock cracks there was absolutely no protection at all. There were a few kids running around, and it seemed kind of dangerous to us. But at the same time, it was nice to have unobstructed views, and to be able to climb and go wherever you wanted.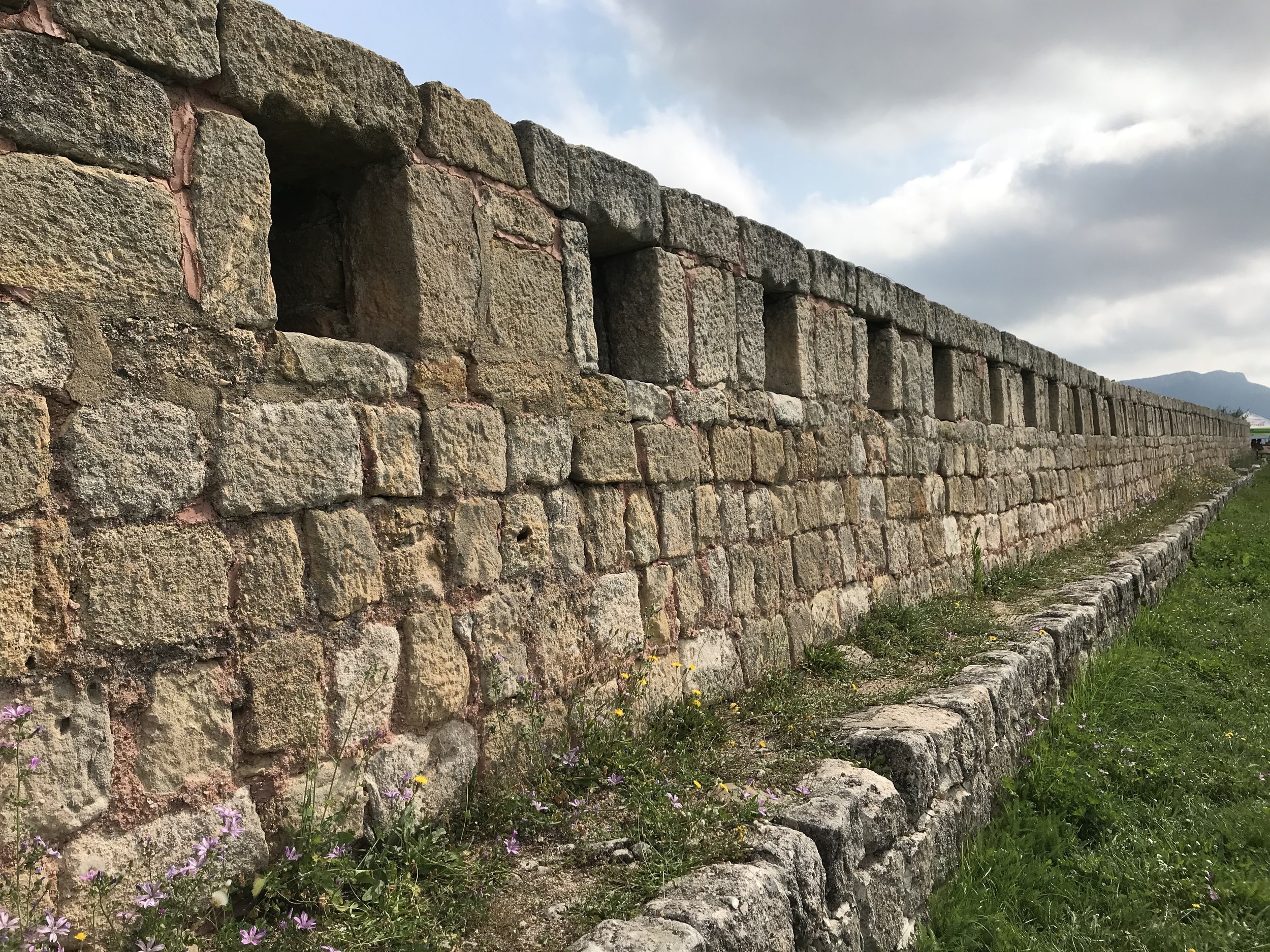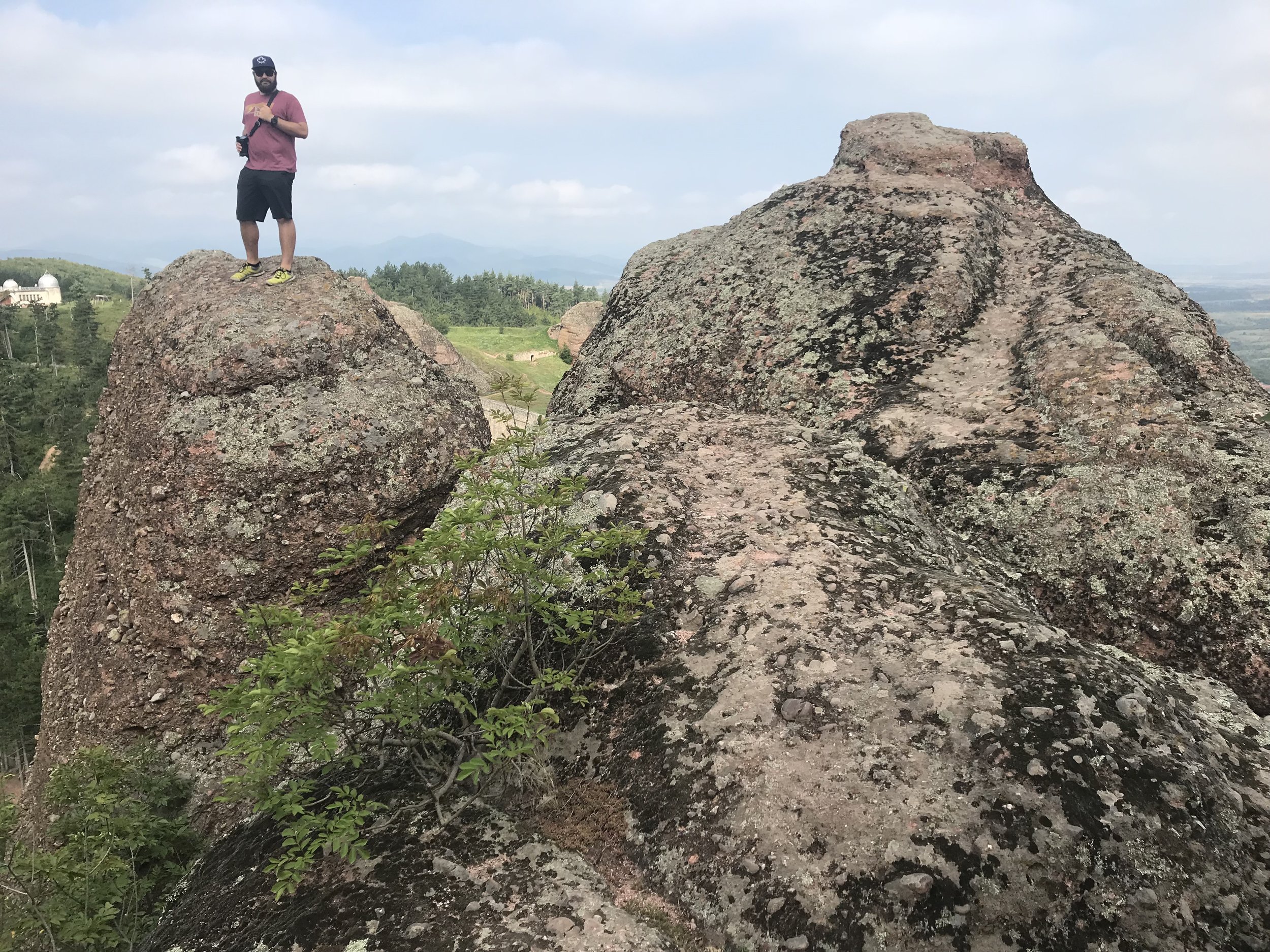 It was still not so touristy, as there were maybe 10 other people there with us. We were up at the fortress for maybe 40 minutes before we decided to head down. As soon as we headed for the exit, a swarm of people were making their way in. They were all from a river cruise that had stopped in a nearby port, and there were easily 300 people making their way into the fortress. We were so happy we got to see it before they arrived.
After seeing the fortress, there really wasn't too much else to see in Belegradchik. We walked through town again and grabbed some lunch. There are only about 5 restaurants in the town, so we ended up going back to the same place we had dinner the night before. It was the place that was recommended to us by our Airbnb host, and it had gorgeous views.
For the rest of the day we took our time strolling through the small town, buying a few groceries, and relaxing on the terrace of our apartment. In hind sight, we really only needed one night in Belogradchik, because the fortress only takes about an hour to see, and there really isn't too much else to see in town. You can do day trips to visit some nearby caves and towns, but we were happy to walk around and didn't really feel the need to see another cave.
After a big city like Bucharest, it was nice to plant ourselves in nature for a few days and visit some of the less-touristy natural wonders of Bulgaria. Both places were really beautiful, and we are very happy we added them to our pit stop list as we made our way to Serbia and southern Europe. We were both really surprised by the beautiful landscapes, and hilly countryside. In a lot of ways it felt familiar to us, and made us feel like we were in the deserts of Arizona, or closer to home in Drumheller, Alberta.