You Should Visit Romania - Part I
After 2 months of busy travel, we wanted to plant ourselves in one place for a couple of weeks. We needed some down time to relax and unwind. We really didn't know much about Romania at the time we booked our stay, but we chose Bușteni because it was in the Bucegi Mountains, near some hiking trails, and close to Bran and Peleș castles – two places we really wanted to check out. Bușteni ended up being a great place - one of our favourite so far on our trip - and it was close to so many day trip activities! Here were some of our highlights from staying in the Bucegi Mountains:
Bușteni
Bușteni it's self is not a very big town, but it has everything needed for a great mountain stay. We were shocked by how good the grocery stores were, one called Mega Image in particular. It was probably the best grocery store we have had so far on our trip! They had a great selection of ingredients and we even found everything needed to make homemade Vietnamese Pho a couple of times. And the prices were so great, even though it is a touristy mountain town. Costs were on average two times less than what we pay in Canada, so that was a real treat.
Bușteni also has a beautiful castle on the hillside in town called Castelul Cantacuzino. It is really pretty, and you see it from almost everywhere in town. We went for dinner there so we were able to walk around the castle grounds and enjoy the views up close. Dinner was good, but after eating some local food from mom and pop restaurants we realized we could have had delicious Romanian comfort food that was equally satisfying but for a fraction of what we paid at the castle. So we probably wouldn't go back if we found ourselves in Bușteni again. Our favourite meals were from a place called Casa Magica. They have a villa for accommodations, but also a restaurant and spa. They food was soooo good! One day we went all out and got drinks, a meal, and a dessert, and it cost maybe $25 CAD (including tip).
Caraiman Monastery is located on the south side of Bușteni, and also worth a trip if you are in town. The Orthodox monastery is not that old, it was constructed in 1998, but it is huge and quite pretty. There is a large monastery complex that can accommodate up to 100 people, as well as a few beautiful churches. One of the wooden ones looked very similar to the stave churches we saw in Norway. Maybe the best part of the monastery was all of the animals. We saw a ton of birds, everything from peacocks, swans, pheasants, turkeys, to chickens. They also had a ton of bunnies and some cute guinea pigs.
By far the most popular things to do in Bușteni is ride the cable car, which brings you to Cabana Babele. This cabana is located on top of the mountain overlooking Bușteni. Once at the top you can see the famous Sphinx and Babele rock formations, as well as Crucea Caraimen (a huge cross overlooking Bușteni). We did the hike to the cross, and we will do a blog post about it shortly, so stay tuned!
The cable car was a crazy experience and took forever. We ended up having to wait close to 2.5 hours before making our way up the mountain, and once we finished our hike at the top we had to wait an additional hour to return back down. This is a very common experience, and if you do a quick Trip Advisor search, you will see most people wait 3-5 hours to take the cable car up. It's surprising because the ticket costs are quite pricy, costing 75 RON ($25 CAD) per person for a round trip ticket. We quickly did some math to see how much they must make, and it equates to around $25,000 CAD a day, which seems crazy to us! They can only take 20-25 people each run, and there are only a couple of runs each hour, so if you don't get there early you need to wait for quite a while! We were happy we did it, the views were so crazy and it was definitely an exhilarating ride.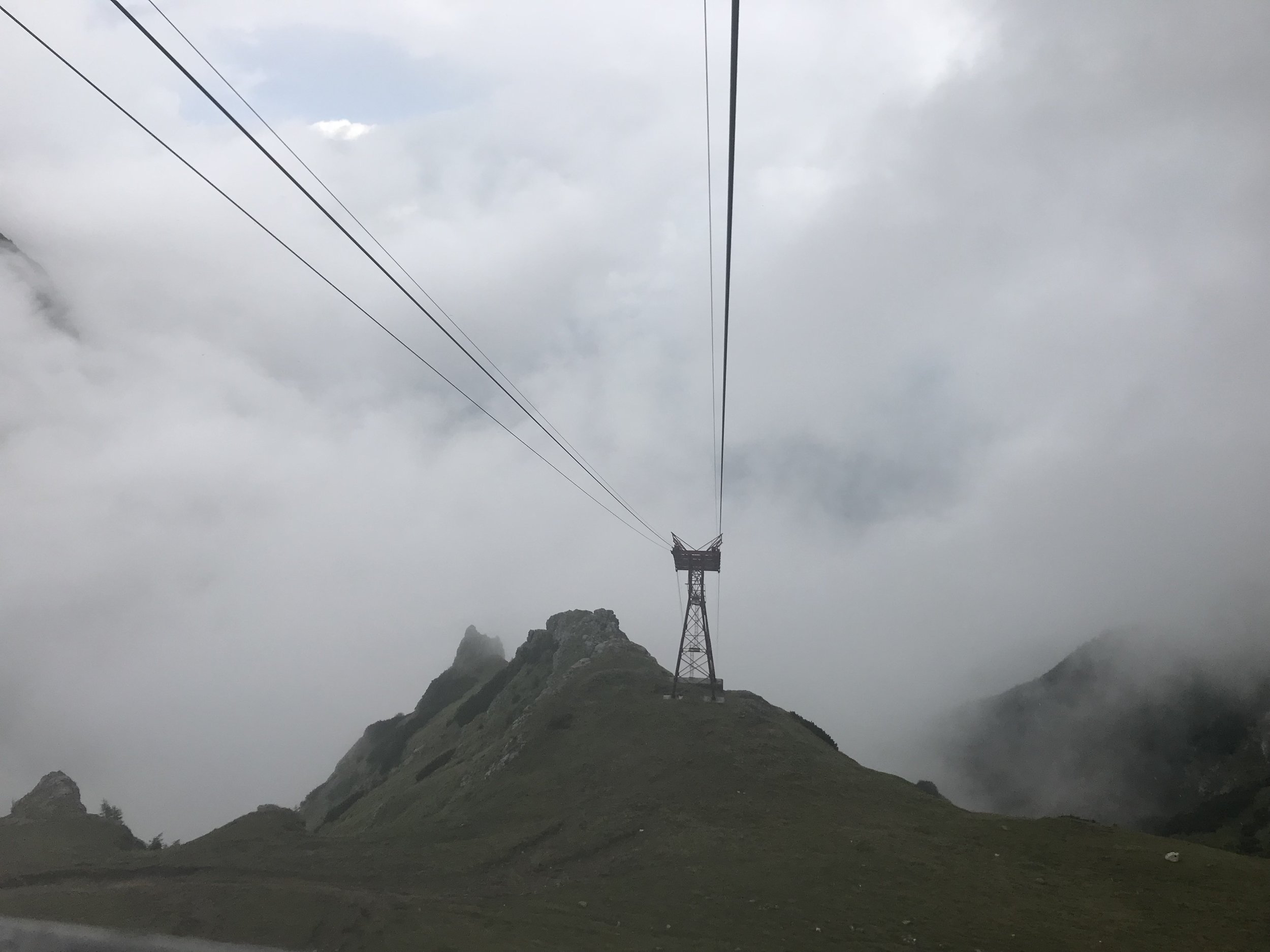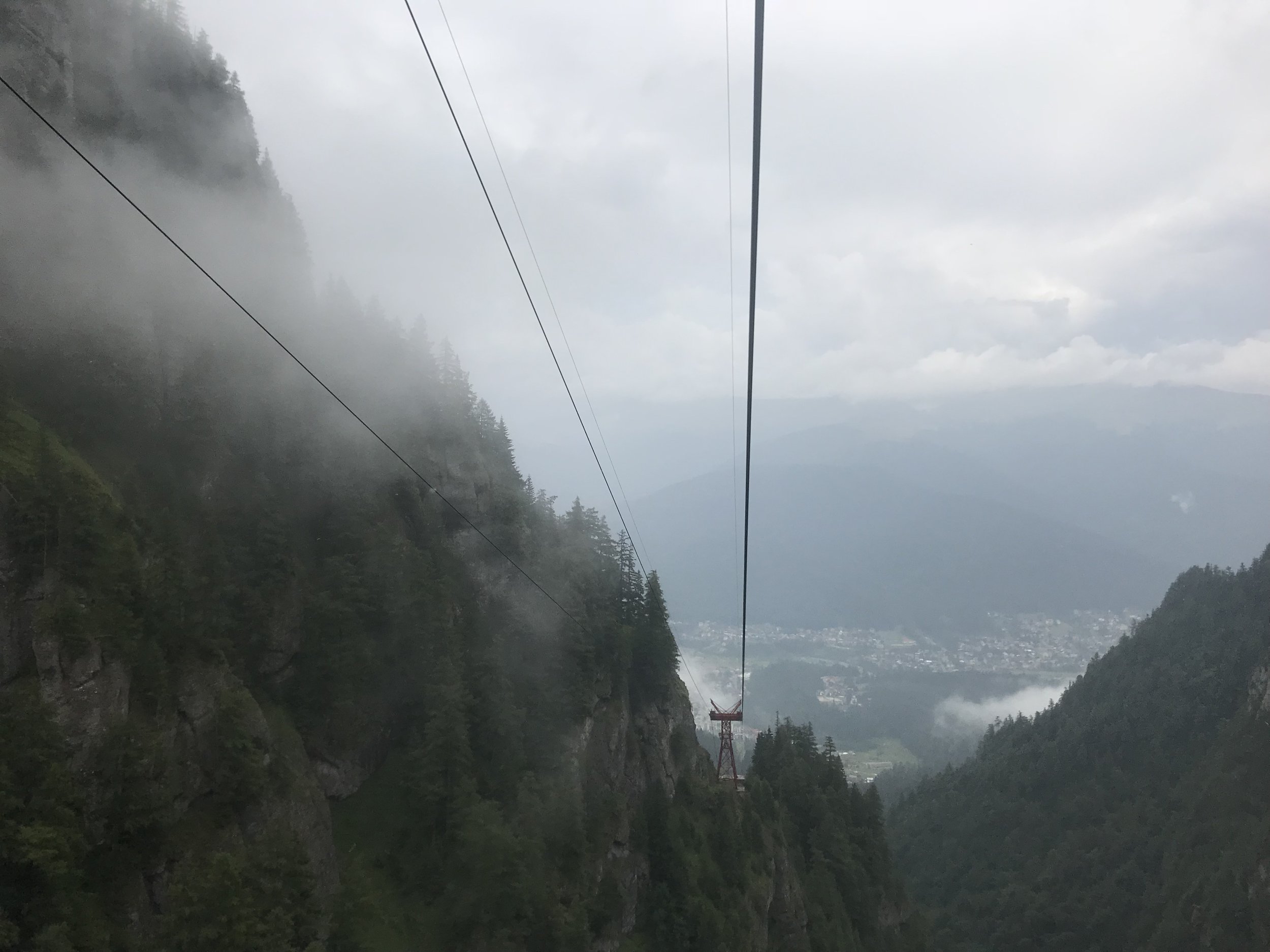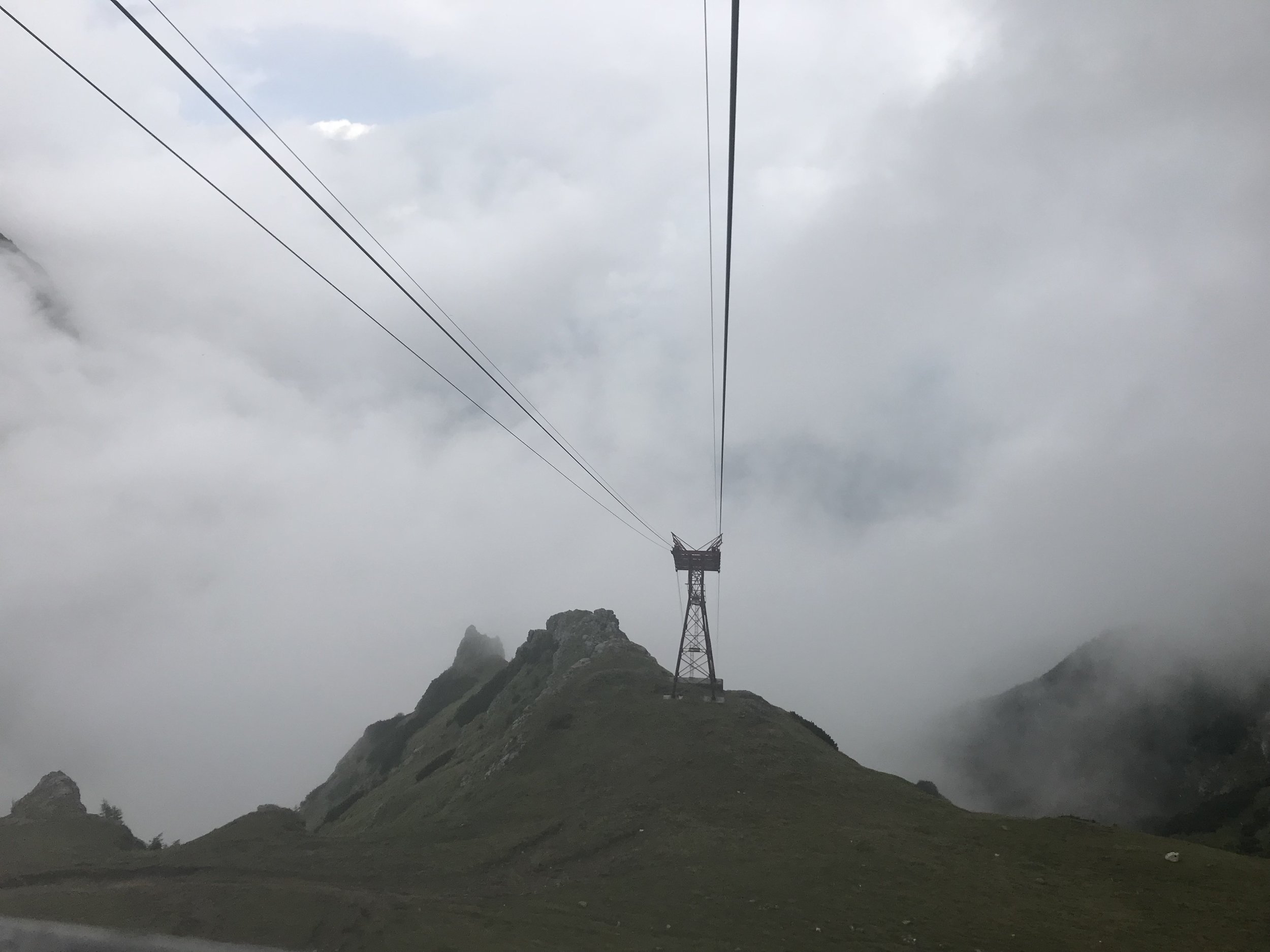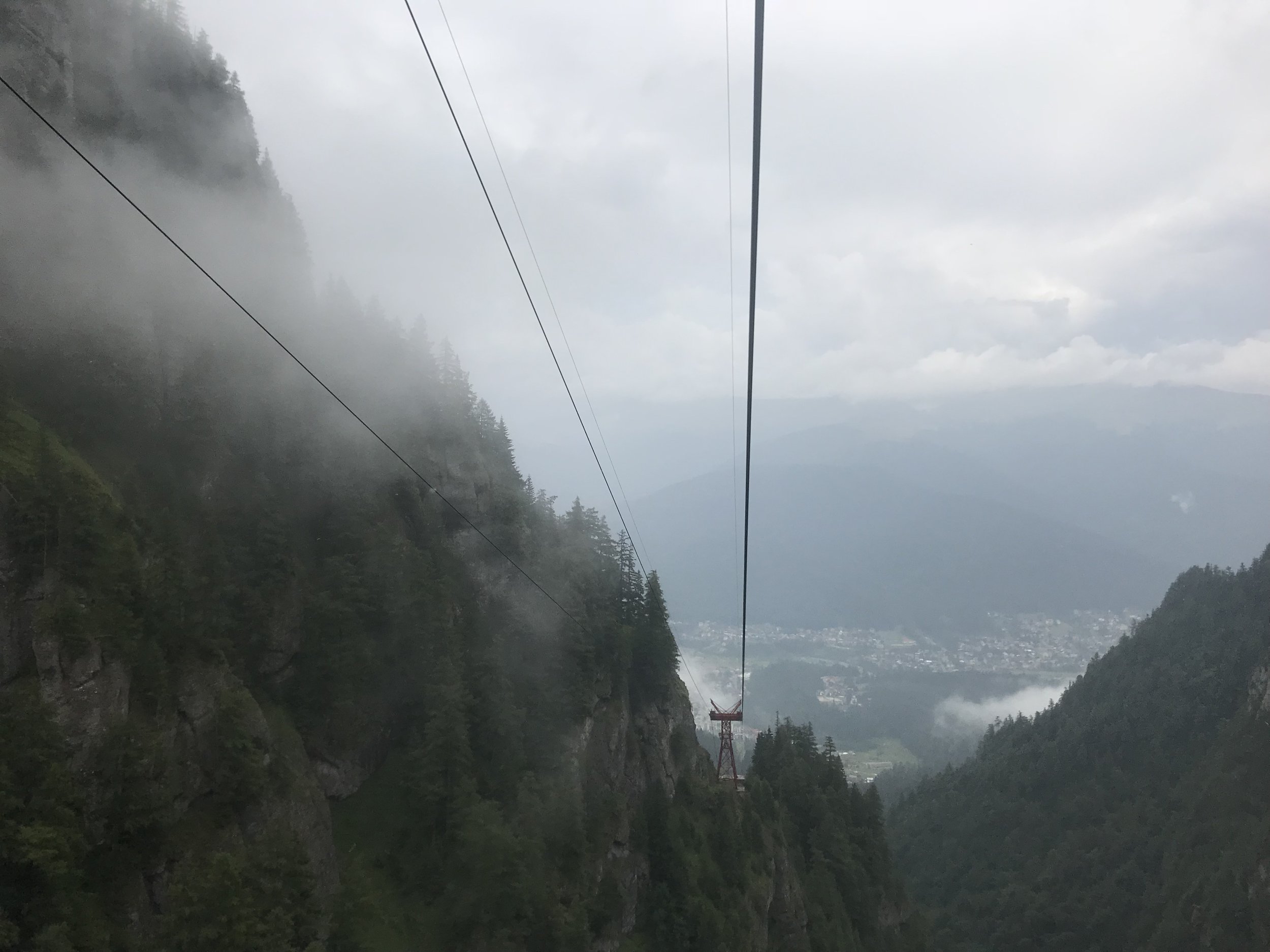 One of our favourite parts of Bușteni was how close we were to nature, and how we could completely relax and not do anything. There were a few days where our only "event" was to walk to the grocery store, or go on a walk through the various forest pathways. It was really great. We both loved being so close to the mountains and forests. You just can't beat enjoying your morning coffee outside, starring into the woods, and breathing in the fresh mountain air. It was truly perfect. On top of that, we got to see some cool wildlife, such as bears, wild pigs, and a fox. It was awesome!
Sinaia and Peleș
Sinaia is just south of Bușteni, and is another mountain town in the Bucegi Mountains of Romania. It's larger than Bușteni and known for its ski hills, but in the summer it's really nice as well. We spent a few days walking the main street, buying delicious pastries from the street markets, and checking out their numerous outdoor stores. They also have one of the only tourist information centres in the area, so it was helpful to stop by to get some information about the local hiking trails.
We were super lucky, as on one of our trips into Sinaia we found out they were hosting a Rally Car race that weekend. We headed into town to watch the final day of the race, and had so much fun! It was pouring rain, so all four of us (our travel buddies and the two of us) got absolutely drenched, but we had a blast standing on town streets watching the cars race by. We hadn't seen anything like that before, and we felt so fortunate to be in a small mountain town in Romania watching our first one. It felt so crazy! It was one of the many times we found ourselves in shock, that we were half way around the world, in Romania, on this crazy once in a lifetime adventure.
The number one thing Sinaia is known for is Peleș castle. Peleș castle has popped up a few times in Travel and Leisure articles and on our Instagram, so we were excited to check it out. It's a gothic style castle, Sharleen's favourite, and it is just as beautiful in person as it is in the photos. It is a crazy photogenic building, and it looked so cool from all angles. We made the decision to visit the castle on a day it was closed, as we have seen quite a few castles, and we didn't really want to spend $30 CAD to visit the inside. After a while, all of the castles start looking very similar, so we made the decision not to go in. Because of that, we visited quite early on a day the castle was closed. Our hope was to be able to walk the grounds and view the castle without any other tourists. We were there so early that the tourist booths weren't even open, so it really felt like we had the place to ourselves. It was a little eerie, as all of the garbage cans lining the forested walkways to the castle had been rummaged through and knocked over, and it wasn't until we saw warning signs of local bears that we pieced together there were likely bears in the area. After that we were kind of hoping that some more people would arrive and make some noise!
It turns out most of the castle grounds are locked so no one would be in the way of our views if others were here enjoying the castle as well. Even with the grounds locked, we had beautiful views of the castle and other buildings around it. Looking back, we kind of regret not going inside. We've heard it's absolutely gorgeous inside, and apparently the castle cost over 16,000,000 gold lei in 1883 (valued over $120 million USD today) to build. With a price tag like that it's probably pretty special inside.
Sinaia's also has a cable car, however we did not go up it as it was just a little too far from the hike we wanted to do. Also, after our last cable car experience, we figured it wouldn't be worth another $50 CAD per couple to go up. From the reviews online though, a lot of people rave about this cable car, and it is recommended over the one in Bușteni.
Bran and Râșnov
We did Bran and Râșnov in one day, but both stops were quite quick. The main attraction in Bran is of course, Bran castle (aka Dracula's castle). Sharleen has wanted to come here for quite some time. Ever since we starting planning a trip to Croatia in 2017, she was looking for a way to get to Bran castle. So needless to say, we were pretty stoked to head there. This was a castle we wanted to tour around, so we headed there early, hoping to skip some lines and see the castle without tourists. We weren't too lucky, as they literally lock up the grounds and only open the doors at 9 am. We got there just before 8 am, so we tried to go around the back and hike up to a small white wooden cross on top of a hilltop. From here it looked like you might be able to get a good view of the castle. It had been raining pretty badly, and there was no pathway, it is just straight up the hill in the mud. We tried to make it up but it was so gross and muddy, and we were slipping everywhere. We decided to stop and head back to the road, our friends had better shoes so they went on and made it to the cross. Overall, the view was good, but the lighting wasn't so great so they weren't able to get any outstanding pictures., so we were only slightly jealous.
We headed to the entrance and waited in line until the castle opened. There was a shocking amount of people in line, easily over 100. It was crazy. A few times we have headed to castles for right when they open, and we've lucked out with no crowds, but this was not the case at Bran's castle. So we joined in the craziness and waddled our way through the castle.
It was a really cool castle, and the lay out was so different than others we have visited. It felt like we had walked through numerous secret passageways, and one room would lead to two or three others, making it feel like a huge maze. It was really fun! In the centre of the castle was a pretty courtyard. It would be a really cool castle to visit in the evening, if you don't mind being around Dracula's castle at dusk! Actually, another thing we quite liked is that they didn't make it over the top Dracula, and it wasn't super gimmicky. They went through the history of Vlad the Impaler and why he was considered the inspiration behind Bran Stoker's novel. They also had a few rooms dedicated to Romanian folklore, myths, and of course vampires, but overall it wasn't nearly as tacky as we expected it to be.
After our tour ended, we walked around the grounds of the castle, and the views were awesome! There were a few trees on one side, so most of the views were from the front, but it definitely showed how large and impressive the building is. We wished we had a drone, because we both felt like that best views were from above, where you can see the mountains, the town, and the centre courtyard of the beautiful castle.
The castle was really all we did in the small town of Bran. We walked through a few tourist booths and shops, bought some postcards and knick-knacks, and headed back to the car.
On the way back to Bușteni, we had to drive through the town of Râșnov. Râșnov has a huge fortress on a hill that overlooks the whole town, and there is a huge RASNOV sign (like the Hollywood sign). We decided to walk up the hill to check out the fortress. There is a nice pathway that goes right under the funicular, so we hiked up and made it to the fortress in about 20 minutes. We had great views of Râșnov, and the little towns nearby. It was a clear day, so we really could see for miles! It was quite fun. We didn't go into the fortress, but we walked around the high walls, and probably halfway around the fortress, before heading back down.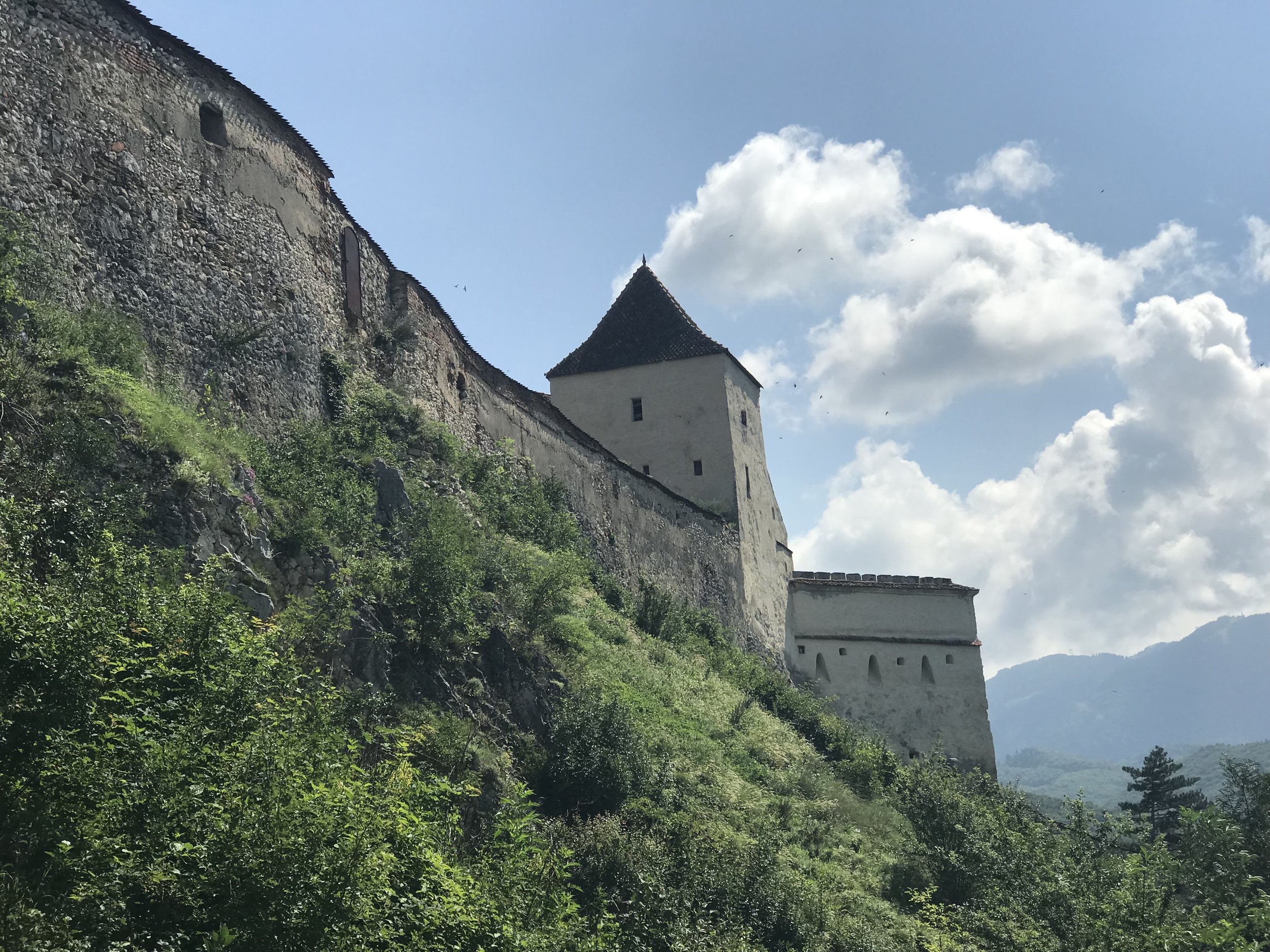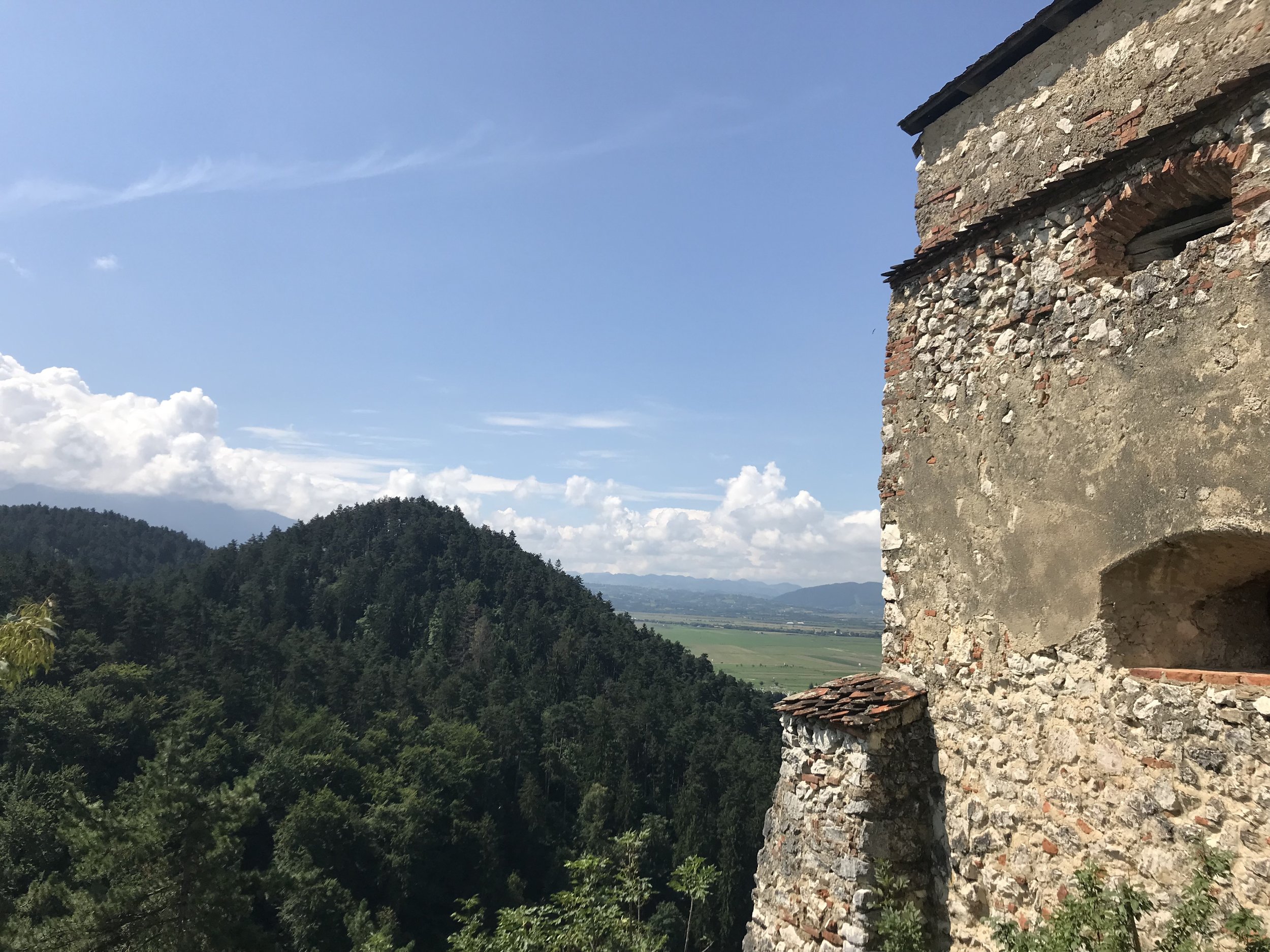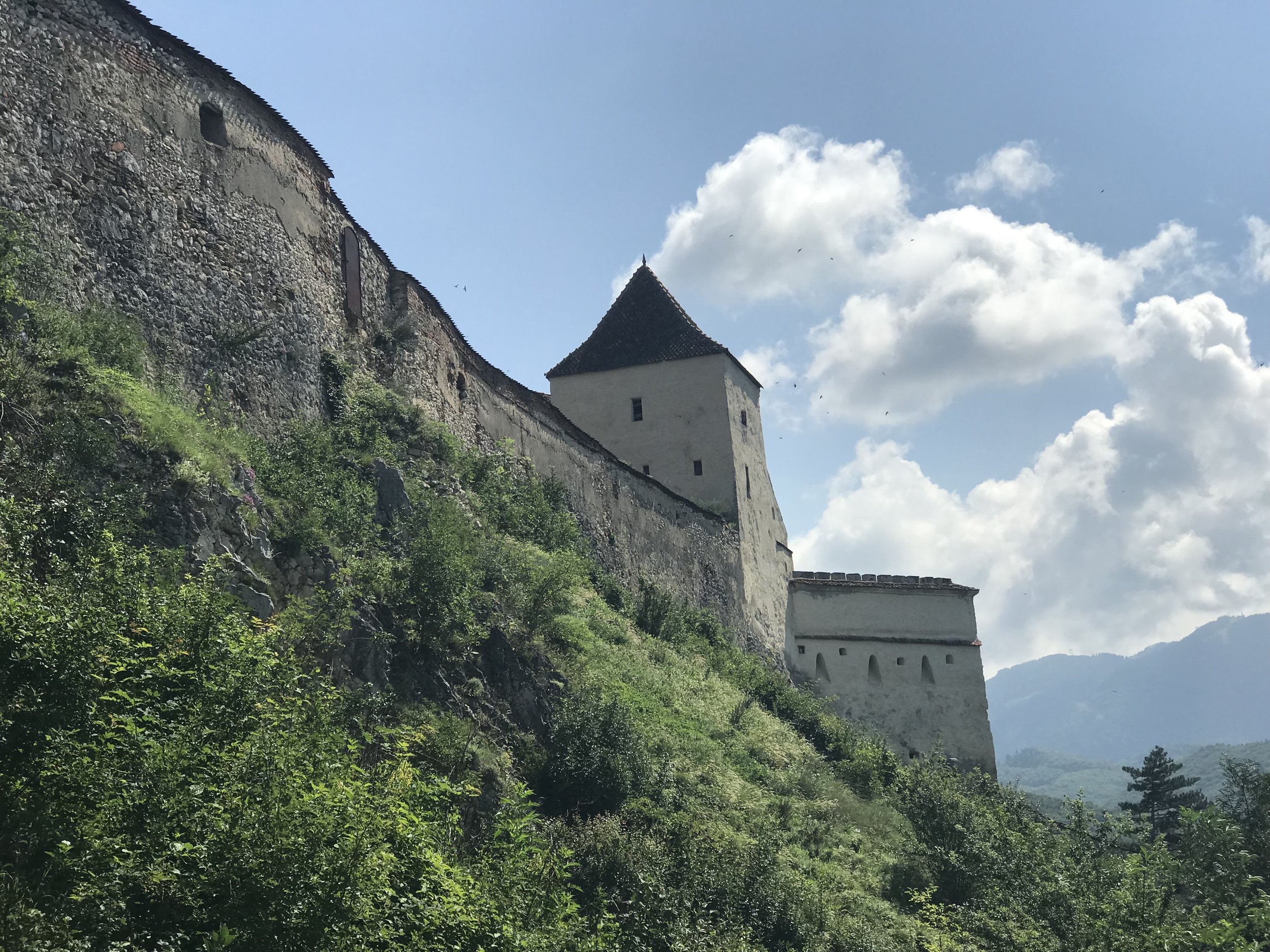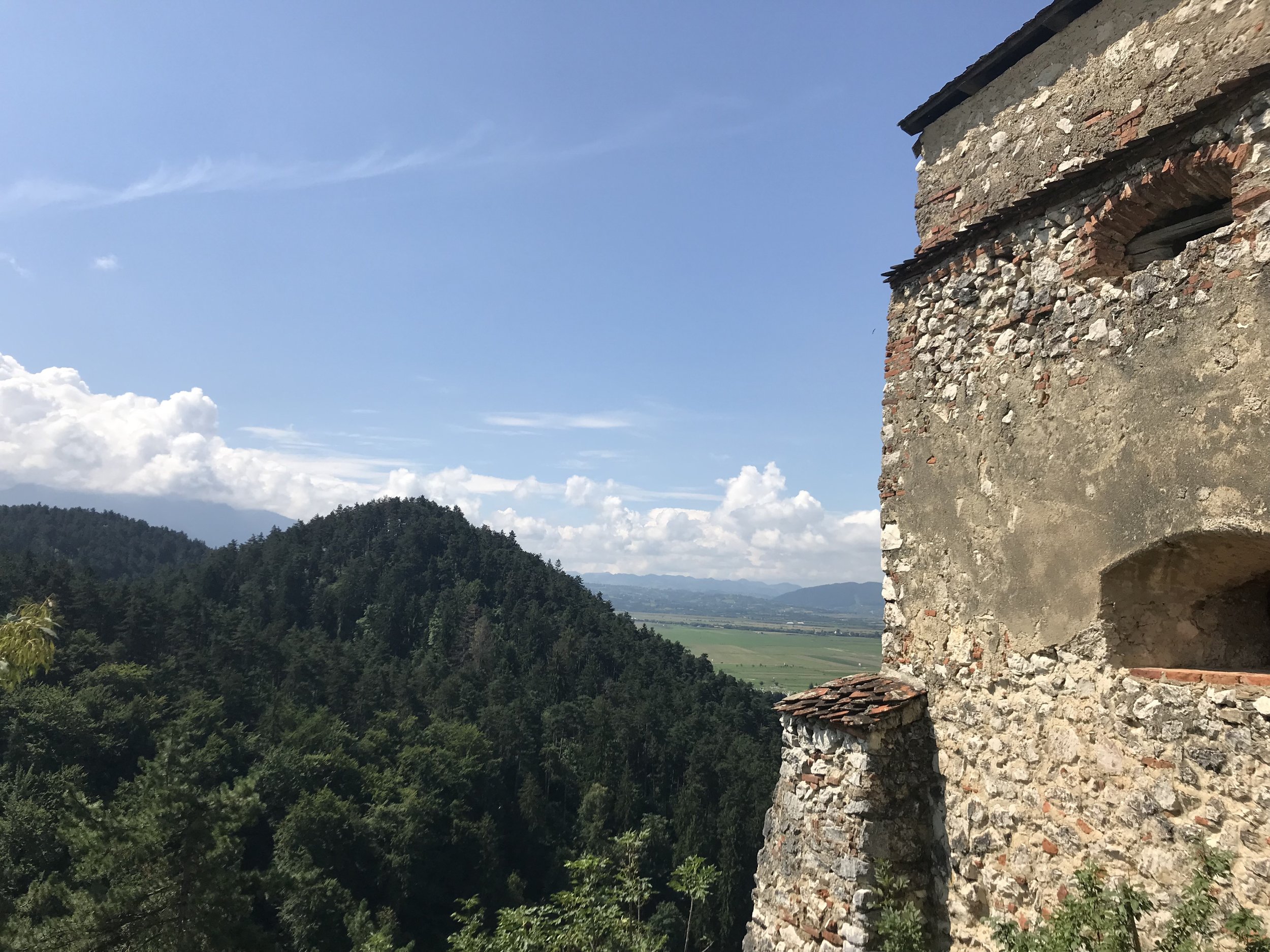 Once we were in the town centre we headed down one of the main streets to get a good view of the hill and fortress from afar. The fortress was definitely more impressive the further you went, it was the only way to see how massive the whole structure is! Râșnov is a cute town, they have a few tourist attractions such as the fortress, Dino park, and a cave. If we had more time it would have been nice to check out the caves, as they are supposedly quite impressive.
Transfăgărășan Highway
Driving the Transfăgărășan Highway was one of the highlights from our time in the Bucegi Mountains. We did a pretty detailed review in our Week in Review: Week 13, but it's worth talking about again!
It was quite a stretch to do this road from Bușteni, and we probably should have made it an overnight trip. It ended up being a 250 km drive, but that took us 12 hours. Most of the roads are in poor condition, so you drive quite slowly. You also go through a few mountain roads and passes, where you cannot drive too quickly. Then once you get onto the Transfăgărășan Highway, we stopped a bunch of times to admire the amazing views. Along the way you pass a fortress, the Vidrau Dam, and Balea Lake - a beautiful glacial lake. However, the main attraction is driving the road with all of the crazy hairpin turns and serpentine road sections.
The best views are on either side of the tunnel by Balea Lake. If going south to north, on the south side of the tunnel you can see some parts down the mountain pass and a beautiful waterfall. However, the waterfall is really touristy, and there are a few booths set up right by the waterfall. There is also quite a bit of graffiti on the rocks. Both of which make it less than ideal for snapping a nice photograph.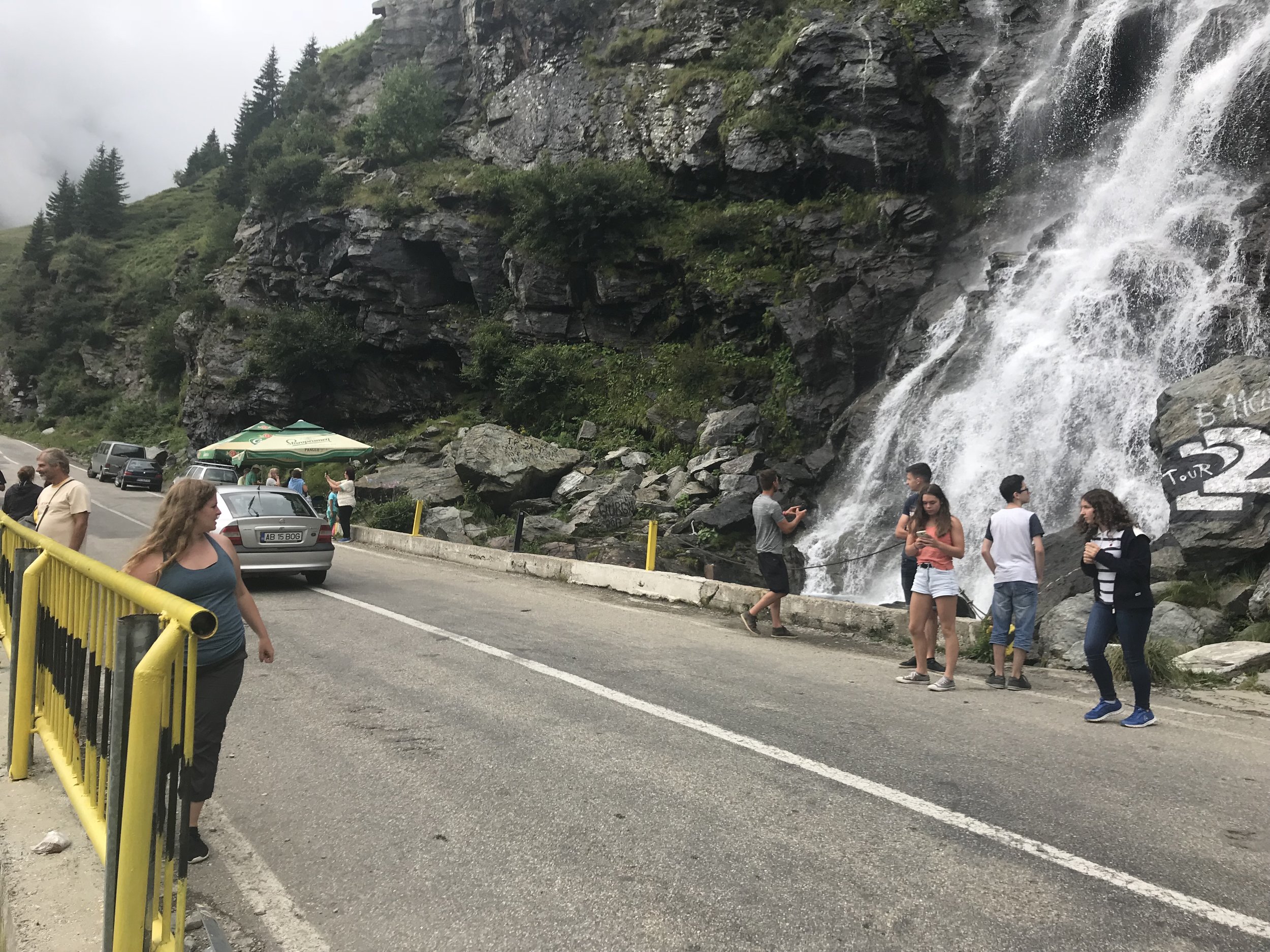 By far the best viewing spot is about 200m - 400m north of the tunnel. Here you can look down the other mountain valley and see the road for a few kilometers. It's definitely the view we came for! We had to wait about 40 minutes for the heavy fog to pass, but when it did, the views were so crazy! Driving the road was really fun too.
The reason we'd make it an overnight trip is because by the time we got to the end of the highway, it was already getting dark. The roads aren't in the best shape, so driving in the dark was quite stressful. Also, there are some great hikes and villas in the area, so it would have been great to have a day to explore some trails.
These were some of the activities we did during our stay in Bușteni. It really was the perfect place to plant ourselves as we got to know the area and caught up on some relaxation time. Two weeks was also a great amount of time to get to know the town and the wonderful people in it. Everyone was very friendly and kind, and by the end of our two weeks we felt sad to leave such a wonderful town.
We talked about our amazing Airbnb a few times in our last week in review, but it no doubt made our time in Bușteni very memorable and fantastic. Click HERE to check out the listing, we'd highly recommend it if you are planning a trip in Romania. We cannot stress how perfect Simona's place was for us to unwind and feel close to nature. We also loved getting to know Simona and her parents, and by the end of our stay it felt like we had become part of the family. Their hospitality and kindness made this Airbnb one of the best we have ever stayed in.
The central location of the Bucegi Mountains makes it easy to visit if you find yourself in Romania, so hopefully we find ourselves back here again one day!