Week in Review: Week 8
This week brings us to almost 2 months of travel! It's hard to believe, because time has gone by quite quickly. We are in Austria, our 7th country of this trip, and so far the only country we have both been to before. Although, Darrell's first time in Austria was only for about 2 days last May, so we will definitely be seeing more this time around.
We started the week in Vienna, and have now travelled west to a town just outside of Salzburg. We've really loved our time in Austria so far, and are looking forward to exploring the other parts of the country over the next 2 weeks. The weather has been quite rainy and a little mild, but it's nice to have a bit of a break from the hot sun. For the first time this trip, Darrell needed to put away his shorts and wear pants!
Highlight of the week
Sharleen: Strudel Show at Schönbrunn. We spent the morning walking around Schönbrunn, and had finished our tour of the palace and gardens. Before leaving we took a look at our Schönbrunn map and noticed there was something called a "Strudel Show". I was a bit curious, so we decided to go see what the show was all about. I expected it to be pretty gimmicky, and full of tourists – but that wasn't quite the case. We made our way to the basement of a café, into a small intimate room with a few chairs and tables set up facing an island with all of the supplies needed for apfelstrudel (apple strudel). The room could maybe seat 20 people. We arrived 10 mins before the show started, and got our own table right up front. We dug into the strudel right away, and it was amazing! I learned how to make apple strudel from my Oma, and this strudel brought me right back to Oma's kitchen. It was soooo tasty! I was also really excited because it was very similar to the way Oma (and I) make strudel, so I was hoping to pick up some tips during the show. The show was awesome! I was fascinated the whole time, learning new things for the next time I make a strudel. Simple things like using sunflower oil instead of canola oil and a new technique for rolling the dough. I may even try their way of stretching the dough – by throwing it in the air like pizza dough. Overall it was a quick show, maybe 20 mins, but it was very entertaining and I felt as though I took away so much information to further master my own strudel recipe. They also had free recipe cards you could take which included a strudel hotline number, so if you are making strudel and run into issues you can call them for advice. Hilarious! Another highlight for me, which no one else will likely find interesting, is that they sold strudel clothes that you can use to roll the dough on. I always find it hard to find the right cloth, so I was so excited to get one of these! Our ticket price was equivalent to $17 CAD and included the show, a piece of strudel, and a cappuccino. It was a bit pricey, but in my opinion worth every penny. I still cannot stop raving about the show!
Darrell: Walking around Vienna. Vienna has been the most beautiful city we have visited on our trip, or ever for that matter. It seems like everywhere you turn there are beautiful buildings in each direction. It's unlike other cities we have visited because almost all of the buildings are original, or at least restored to original, and there really are no modern buildings. Its also awesome that there was very little construction going on. We spent a whole day wandering the streets of Vienna, chasing beautiful building after beautiful building. When we were at Schönbrunn, we were able to look out and get a view of the whole city. There were a few buildings we could see from a distance, but we wanted to get a closure look. So after Schönbrunn we started walking towards "the church over there". That was literally how we spent the day. As soon as we'd turn a corner we would say "what is that building?!?!" and we'd walk over to get a closer look. We walked over 23 km that day, by the end we were just hoping we wouldn't see anymore cool buildings so we could head to the train and make our way home. Vienna is now the standard of which I will judge all other cities.
Least favourite part of the week
Sharleen: Tourists. We are now getting to peak tourist time in most of the places we visit. I'm really not a fan of big crowds and tourists, especially in places where you are trying to enjoy the moment or get a beautiful picture. I appreciate the irony, as both Darrell and I are tourists, but I'd like to think we aren't your typically tour bus visitor. This week I was super annoyed with tourists - at Schönbrunn in particular. Inside the palace you aren't allowed taking pictures. One of the reasons for this is so the crowds keep moving and people aren't holding up others by trying to take a thousand pictures. The signs are very clear, and the staff do a great job of explaining it to people. But that doesn't stop tourists from taking pictures. Tourists were even worse in the palace gardens. There are signs everywhere asking people to stay on the path and not walk on the gardens. People don't respect the request and they walk onto the grass parts to get their pictures taken. It was so dumb, they would literally walk two feet onto the grass…I don't understand why that is needed. It's not like those two feet make a difference in the photo at all. It's sad because it's going to lead to places putting up chains or fences to protect the gardens, which totally takes away from the views. On one part of the garden there are multiple pathways up to the Gloriette. People were being so rude and walking up the grass hill instead of the pathways. Literally walking on the grass 4 feet away from the pathway. It was just so disrespectful, and it made me, as Darrell puts it, "insanely frustrated". The gardeners spend so much time making the gardens beautiful, and people are just trampling on them with out care or consideration for others who are trying to appreciate the beauty.
Darrell: Sharleen's early morning "hangriness". We've been listening to a bunch of different podcasts during our longer drives, and one talked about the benefits of intermittent fasting. It caught both of our interest, and we talked about how at home we never really ate breakfast, but on this trip we've had breakfast every day. Usually something quick, like yogurt, but some days we would have something more substantial like a bowl full of scrambled eggs. We decided we would give intermittent fasting a go, which means we would try to only eat between noon and 8:00pm each day. Sharleen is the first to admit she gets hangry (angry when hungry), and there have been a few times earlier in our trip where I could tell she was getting frustrated and annoyed. Then she'd say she was hungry and it would all make sense – she was hangry. So, with this week being our first week of trying intermittent fasting, there have been a few times were we have gotten on each-other's nerves. In general, we've been doing quite well, considering we spend every minute of every day together! We haven't had any major blow ups, and we've gotten into a really good rhythm. So hopefully this continues for the next few months!
Favourite city/town/village visited
Sharleen: Hallstatt. I've wanted to visit this town for quite some time. It's always popping up on my Instragram, and is probably one of the images of Austria that I see the most. It's a picturesque town about an hour southeast of Salzburg, which sits between beautiful mountains and is perched along side the Hallstatt Lake. We parked at the end of the town, and spent a couple of hours walking through the streets and grabbing lunch. The town is so pretty, and reminded us of a mix between Lake Louise and Banff. It's very touristy – tourism is their main industry, so there are tourist activities and souvenir shops everywhere. However, the tourism does not distract from this beautiful mountain village. It was raining a bit while we were there, but that didn't take away from the gorgeous views or the charm of the village. It was fun the walk all through the town (it's a very small town, so you can easily walk through it in an hour) and to see the Austrian alpine houses layered up the mountainside. Due to the fresh rain, the colours of the houses seemed to deepen which really contrasted nicely against the green forest and grey mountains. It would be a great place to stay for a few nights, as there are many activities in the area – hiking, biking, salt mine tours, city lookouts from the mountains, a museum, and archaeological history to explore. It is a popular destination, so it's quite expensive and accommodations are very limited. I read online that only around 800 people live here, but they have over 70,000 overnight guests each year! So it gets quite busy in the summer and winter (during ski season).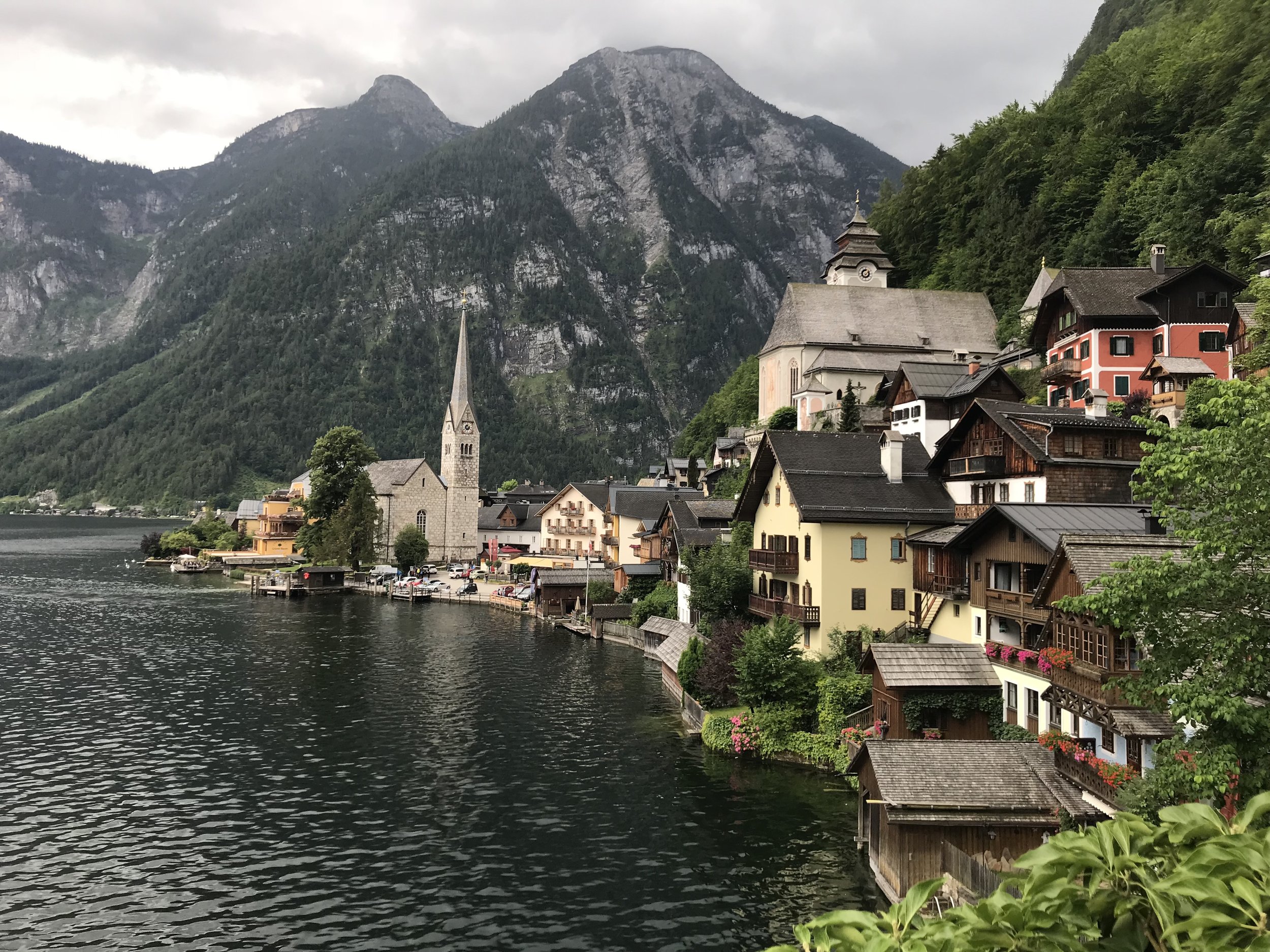 Darrell: Vienna. This city is full of history. Being the de facto capital of the Holy Roman Empire and hundreds of years of rule by the House of Habsburg, Vienna (or Wien in Deutsch) was a cultural center in Europe. No matter where we stood or where we visited, each place felt like it held a significant part in both the history of Europe and the World. This is where the Napoleonic Wars, World War I, World War II and countless other moments in history were front and center. It really was humbling standing in front of these buildings and on these streets, trying to place oneself in these historic times just to get a sense of what the world might have been like those many years ago. Vienna is possibly the greatest city I have ever visited!
Favourite meal
Sharleen: Antipasto plate at the Naschmarkt. Vienna's largest market, Naschmarkt, is a 16th century market with over 130 vendors and restaurants. We accidently came across this amazing market after getting off at an U-Bahn stop near the centre of Vienna. The market was full of middle eastern spices, olives, cured meats, bread, pastries, clothing, you name it! It was huge, lining close to three full street blocks. As we were walking, our mouths were watering - all of the food looked amazing! We had a late start to the day, arriving there around noon, but it was too early to buy stuff to take it home for dinner. We walked by one vendor and saw a couple enjoying some wine, an amazing antipasto platter, and some bread. It looked so good! We both stopped and said that we'd love to have something like that but we have no idea how we would order it, or what you'd pick to put on it. We must have looked quite confused, as the vendor approached us and asked what we would like. I kind of pointed to the couple's plate and said, "can we get something like that?" and he said "sure" and pointed to a table for us to have a seat. The atmosphere was so lively, great for people watching, and the food was amazing! Everything on the antipasto platter was so tasty, and it was great not to have to pick anything out. We got a great sample of everything we'd been oohing and aahing as we made our way through the market.
Darrell: Weiner Schnitzel. We were walking through Vienna and enjoying the incredible sites, and Sharleen looked up where we should have lunch. She had google'd "best schnitzel" and Figlmüller was one of the top choices. There was a small line to get in, and despite being super hungry, we waited it out. We later read that Figlmüller doles out more than 200,000 schnitzels each year, so it should have not been a surprise why the line was so long. Sharleen had the Figlmüller Schnitzel (pork schnitzel) and I had the Wiener Schnitzel (veal schnitzel), and although the pork was huge and delicious, mine was outstanding! This was probably the best schnitzel I have ever had! It was tender and tasty. It was the perfect thickness and had just the right amount of breading. It honestly could not have been any better! Although Figmüller seems a bit touristy, it was absolutely tasty! I could not recommend the wiener schnitzel enough.