Serbia - Our Balkan Surprise
We didn't necessarily plan to go and stay in Serbia, but it was on our way from Romania to Montenegro, so we figured we would spend some time there while we passed through on our way to the Adriatic coast. As it turns out, we really loved our time in Serbia! It felt like an untapped tourists destination, and we have left with an appreciation for its beautiful scenery, lively cities, friendly people, and delicious food.
Our trip started strong with a trip to a winery. We're sure we've mentioned this before, but we quite like wine, so if there is a recommendation to visit a winery, we are 100% stopping. The Jovic Winery was perfectly located between Belogradchik, Bulgaria and Niš – our first stop in Serbia. We had heard about it on a blog called‪ davidsbeenhere.com, and it sounded really great.
We had made the mistake of only looking at Jovic Winery's website the night before heading to Serbia. While reading the website, we noticed that you had to request a visit to the winery. Sharleen sent an email to the winery around 9pm, asking for a tasting the next day at 11am. Since we didn't have SIM cards for Bulgaria, we left the next day and had no Internet connection. We hadn't received a response back by the time we left our Airbnb, but we thought we would chance it and swing by the winery.
We arrived and were greeted by Gregor. He had received our email and had responded just after we lost our Wi-Fi connection. We were so impressed that he was able to fit us in with such short notice. Gregor started our visit with a tour of the winery. We went through the area where they make the wine, store it, age it, and an old cellar where they have aged wine from the 80's. The winery is really beautiful, with a mix of modern and old charm. We particularity loved the cellar, where there were thick cobwebs, dust, and mold covering the various barrels and bottles stored there. It was really beautiful!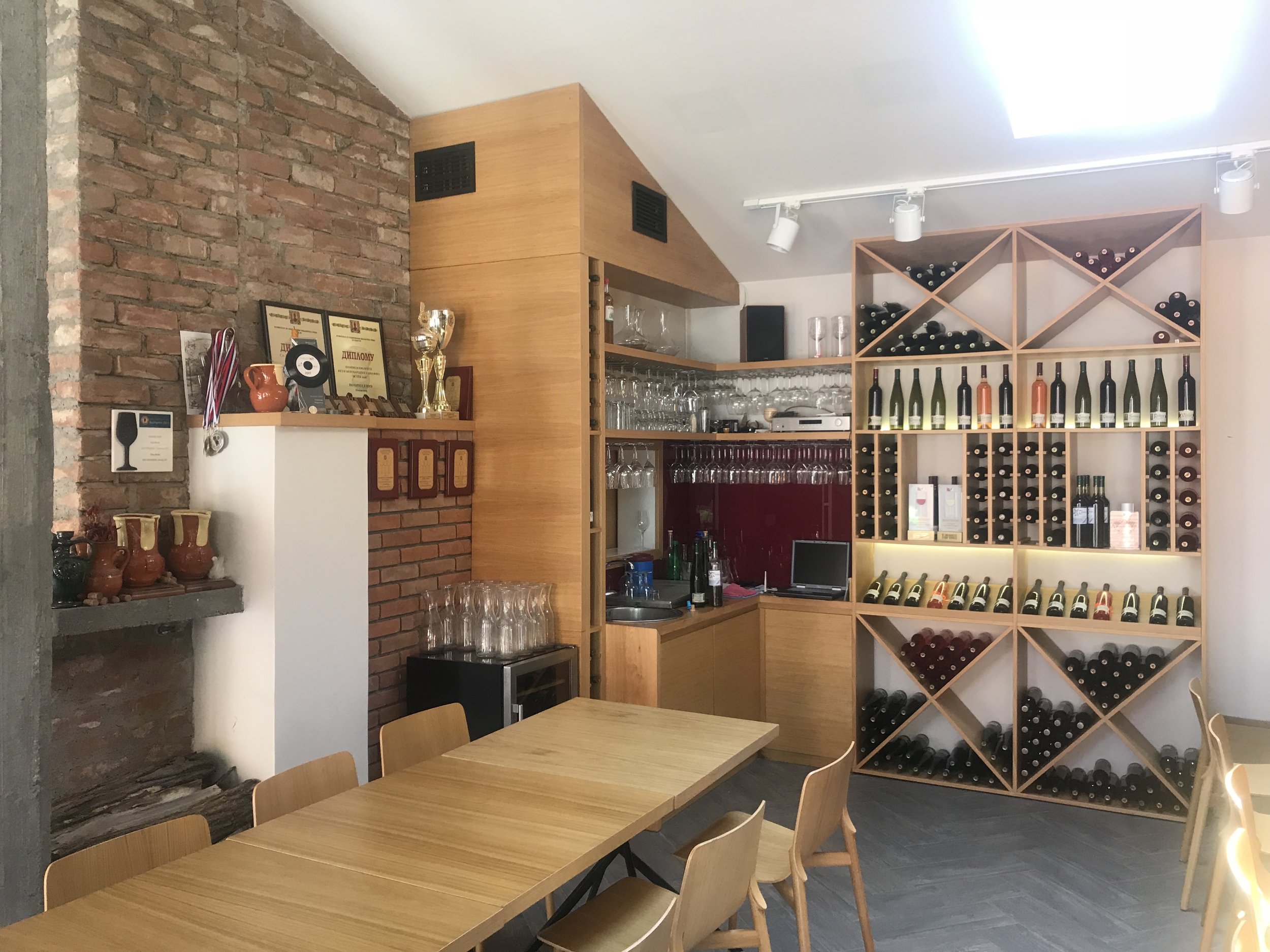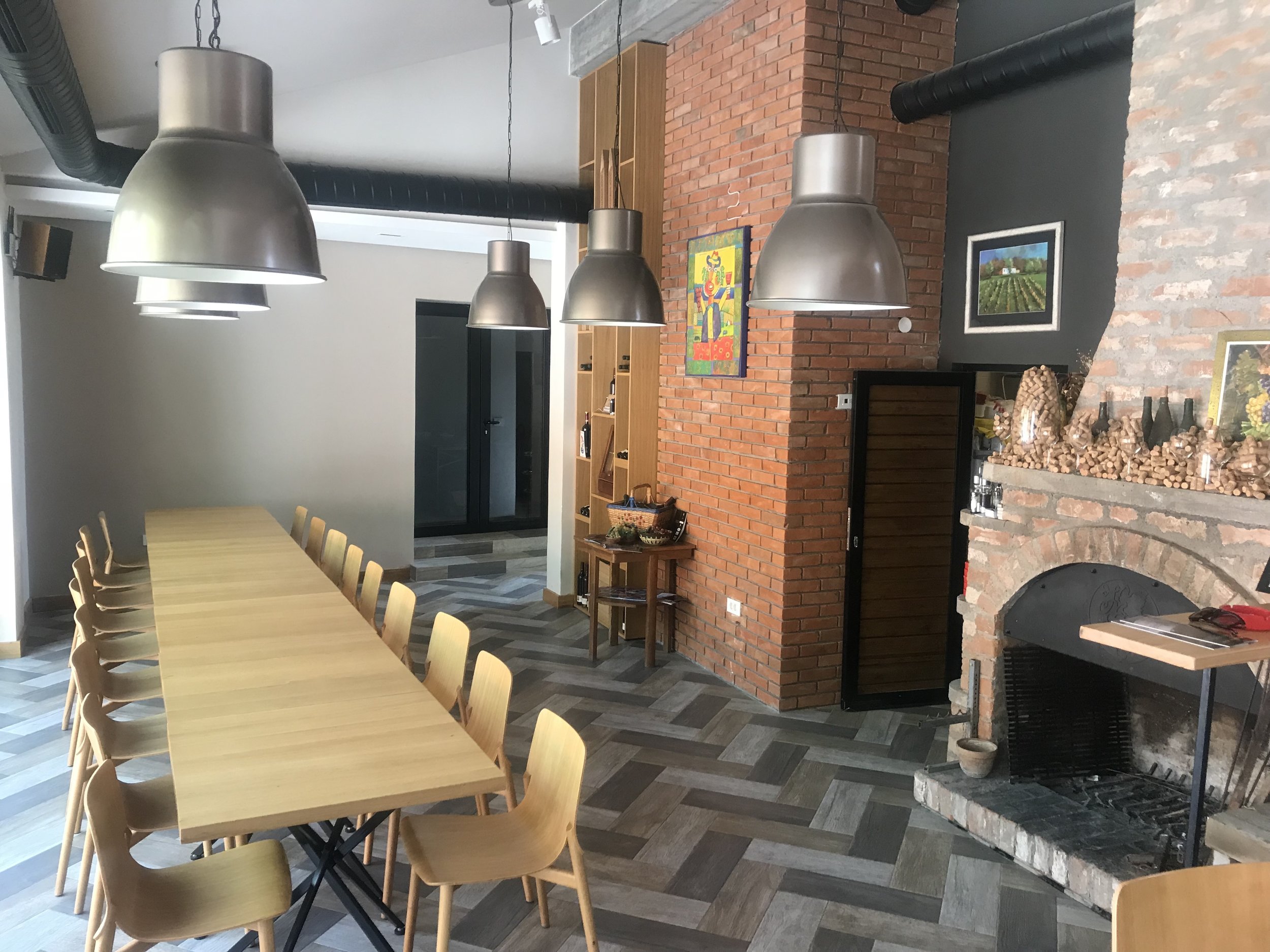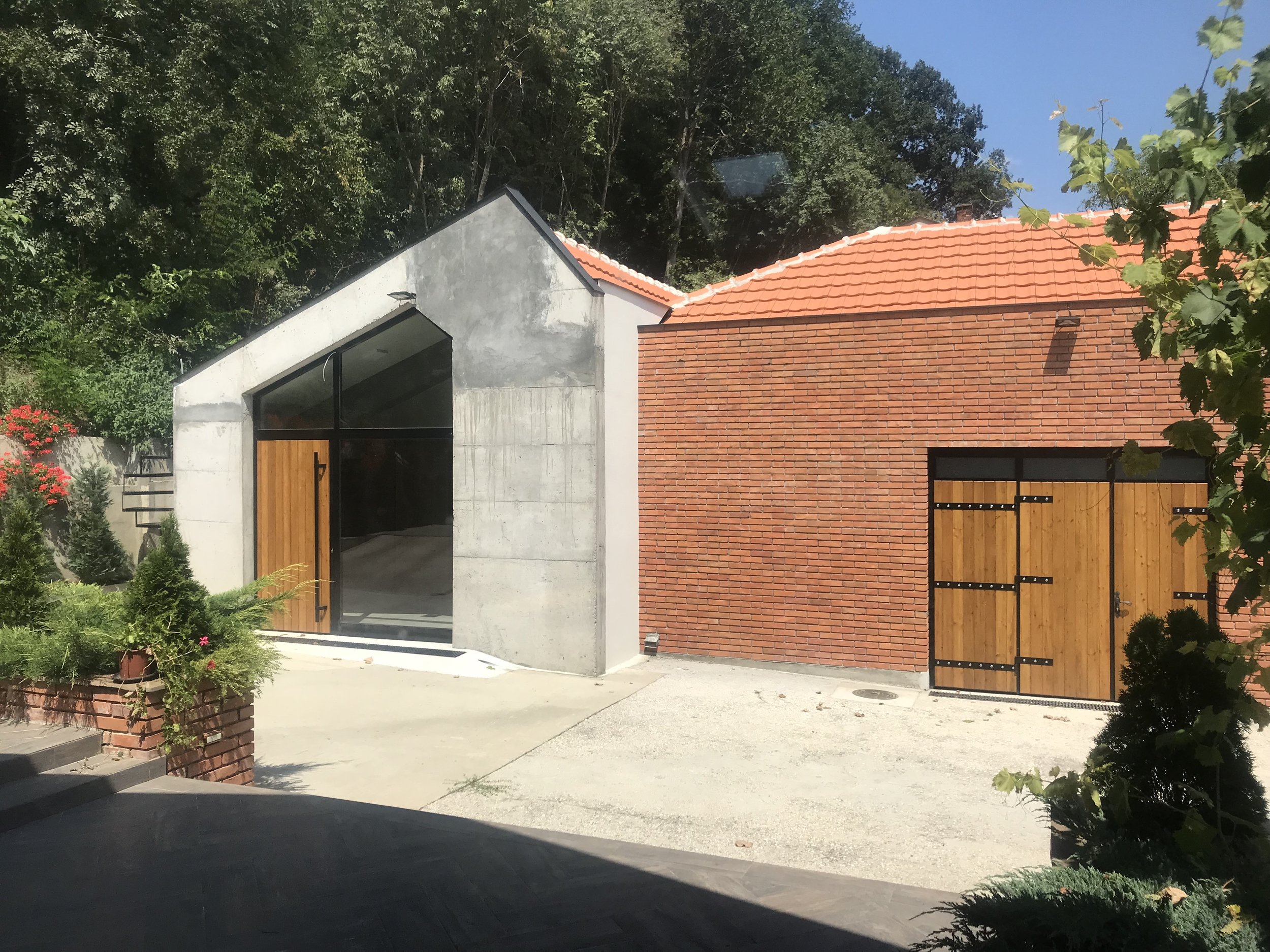 After the tour we sat down to have a tasting. Gregor prepared a delicious plate of local cheese and meat to go with our wine tastings. We were able to try all 7 wine varieties, and each one of them was really quite delicious! Some wines we had tried in Romania were very young and sweet, almost like a juice. These wines were full of flavour and definitely more complex - not juicy at all! The food was also very delicious, the cured meats and sheep cheese were outstanding! We loved the wine so much that we bought a mixed case of it. The prices were about 5-7 euro a bottle, which we thought was very reasonable for the quality. It was also inline with wine prices we had been purchasing in the store, so we figured we would buy a case to last us a few weeks.
The winery is cash only, and unfortunately we didn't have any Serbian dinars with us, as we had just arrived in the country. Gregor was fantastic though, and he took us into the closest town and to a bank where we would take out some money. We can appreciate how sketchy this sounds, but it wasn't at all. He was very hospitable and accommodating, and we really appreciated his customer service throughout our whole winery experience. We were the only visitors he had for the day, so he could have easily ignored our request. But we are so happy he didn't, because it was such a special way to start our time in Serbia!
From the winery it was a quick one-hour drive to Niš. Niš is Serbia's third largest city, and was our home for a quick three days. We didn't really know what sights there were in Niš when we booked it, it just seemed like the perfect location between Bulgaria and the Uvac Special Nature Reserve - our next stop in Serbia near the Montenegro border. Niš ended up being the perfect city for us to stay for a few days, and it was located near some ancient Roman ruins, which made for a great day trip.
On our first day in Niš we walked to the city center and made our way to Niš Fortress. The fortress is one of the best-preserved fortifications in Serbia, and dates back to the early 1700's. While we were in Niš, the city was having an International Jazz Festival that was taking place within the fortress walls, so there were stages and booths set up all over the fortress grounds. It looked like a beautiful venue to host a festival. We grabbed some lunch, walked around the pathways and ruins, and checked out the old fortress walls. It was a beautiful place, even with the festival gear set up throughout the grounds. It was an awesome place to people watch and explore the old fortress ruins.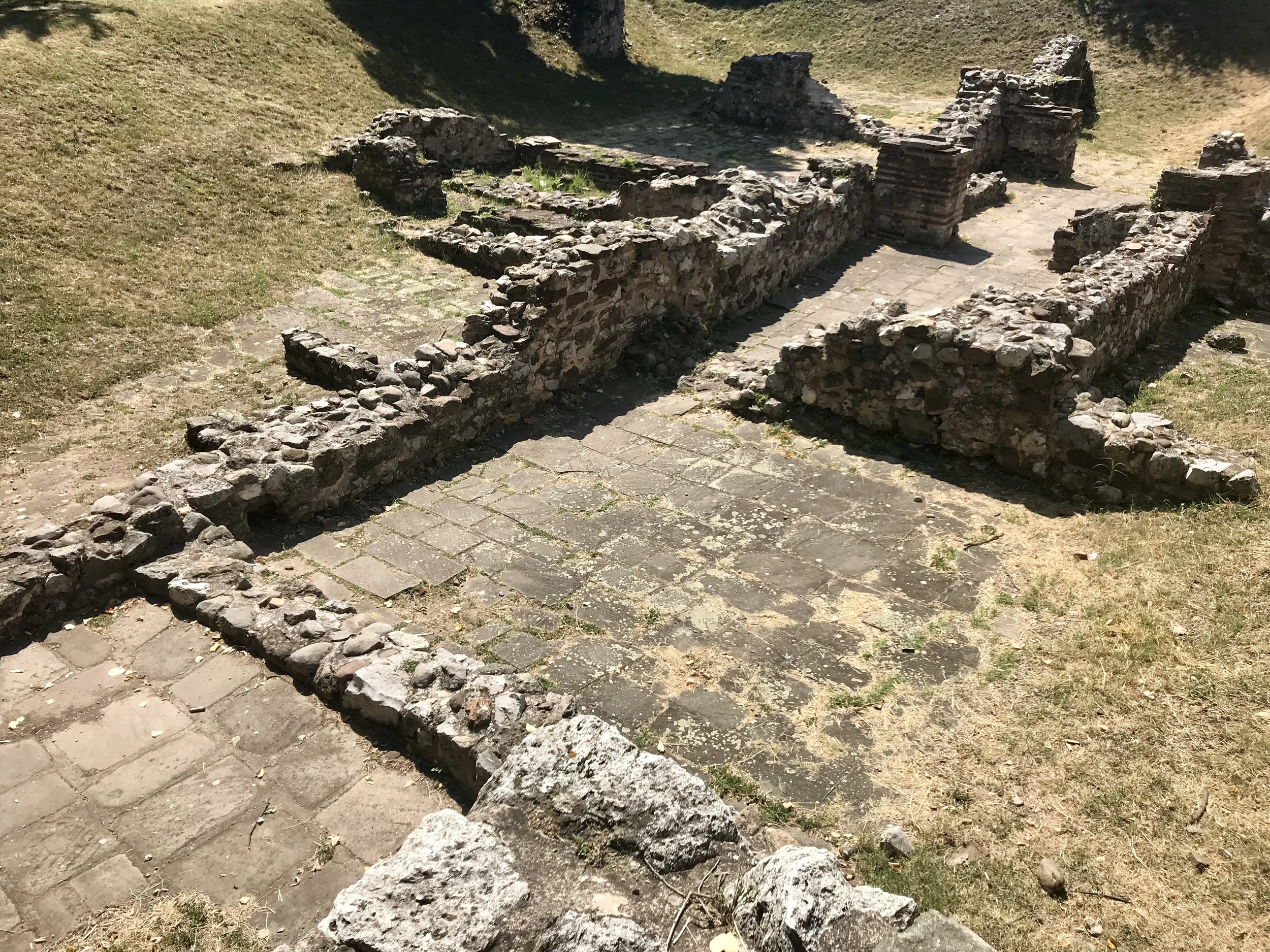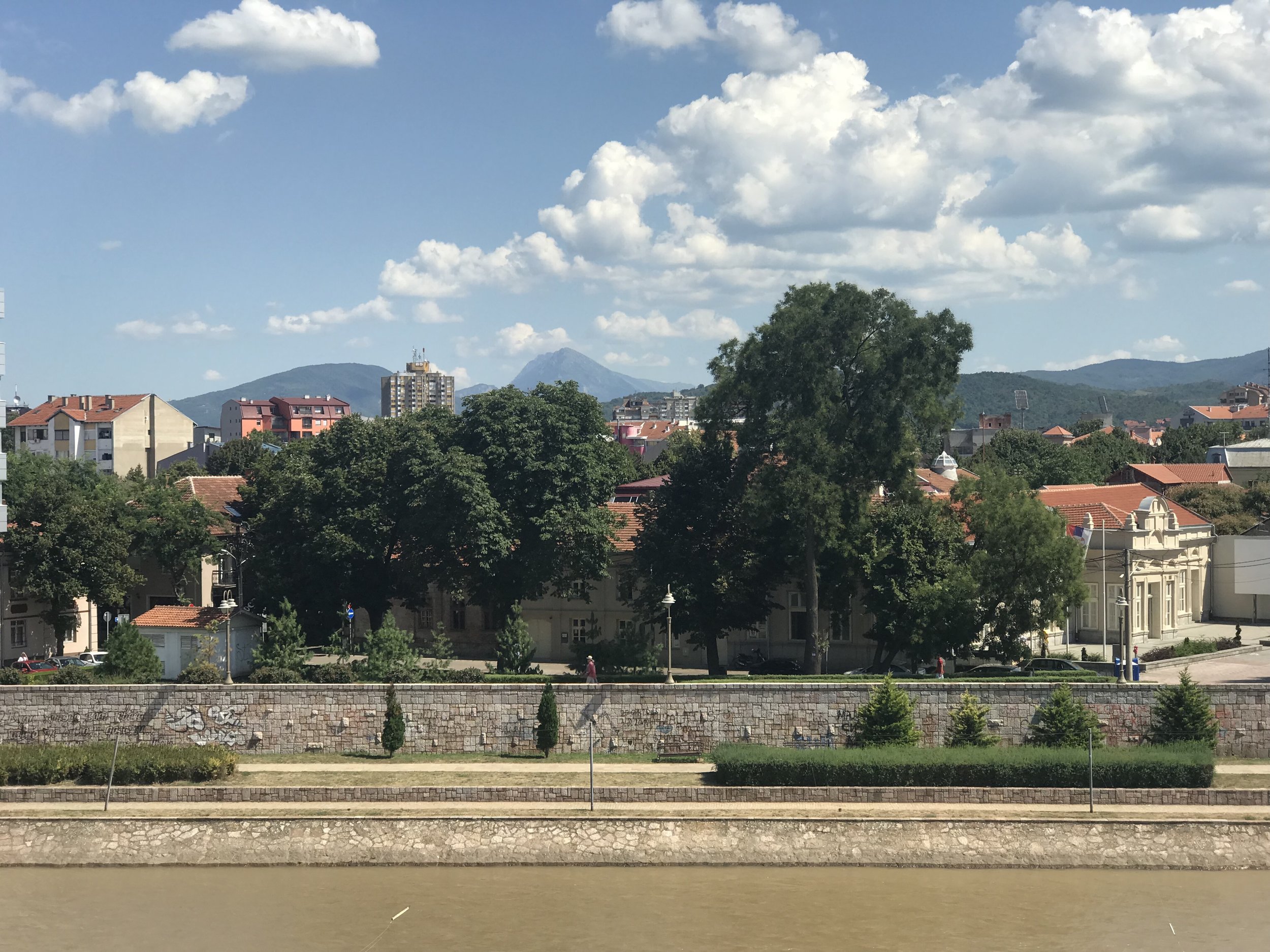 From the fortress we headed towards another popular tourist attraction - Skull Tower. But on our way to the tower, Darrell decided to pop into a barbershop for a quick haircut and beard trim. He just Googled a place with good reviews, and fortunately it was on our way to Skull Tower so we didn't have to make much of a detour. He was able to get in right away, and the lady spoke English very well. It was a pretty simple haircut and beard trim, nothing too crazy or special. However, it only cost $3 Canadian dollars! We couldn't believe the price when she said it. Darrell left her a good tip, but all in all it only cost $5. This would have easily cost $45 at home!
The whole way from the barber shop to Skull Tower we just kept talking about how crazy cheap Darrell's haircut was. We honestly couldn't believe it. But really, the prices in Serbia were very reasonable, and the quality of all of the products we purchased were very good.
After a few kilometers of walking, we arrived at the Skull Tower. The tower was created in 1809 by the Turkish army, after they had crushed an uprising from the Serb rebels. The tower was built using the skulls of the Serb rebels who were killed during the battle near Niš. The 15-foot tower originally had 952 skulls, but today only 54 remain. The tower also used to stand out in the open, however for the protection of the tower and preservation for the remaining skulls, a building was built around the tower to provide security and protection. Quite a few of the skulls have been stolen by family members of those killed during the battle, and by others who want to have a piece of Serbian history. The building helps prevent further damage to the tower.
It was quite an interesting piece to see. It's always a bit challenging to see human remains on display as part of a tourist site. However, the building houses a small museum that goes into the history of the battle, the significance of the tower, and how the Serbian community turned the tower from a symbol of fear and defeat into one of strength and unity.
After spending some time at the tower, we made our way home. It had been a long, hot day of walking around Niš, so we were excited to head home and put our feet up. On our way home we wanted to find a corner market to pick up some groceries. We had noticed so many street corners with mom-and-pop markets selling fresh produce. The grocery store produce was just ok, so we were hoping one of these markets would offer something with a bit better quality. There was one on the way home from the tower, so we stopped to check it out. The produce was amazing! It had great quality and had so much variety! We went with our usual - tomatoes, cucumbers, and peppers. We bought enough for two Greek salad dinners, and it only cost us $1.39 CAD! We couldn't believe the value for the great quality. And the vegetables were absolutely delicious! After that we purchased the rest of our produce from these corner markets.
The next day we went on a road trip to visit the ancient Roman ruins called Felix Romuliana. It was an imperial palace built by the Roman Emperor Gaius Galerius around 290 AD. The site was beautiful, and we spent a few hours walking around the open-air museum reading about the history of the site. The palace ruins were unlike anything we had seen so far on our trip, and we both felt like we were standing in Greece or Rome. There were a few columns, buildings, old church steps, and a portion of the defense wall that surrounded the whole complex. It was the perfect day trip from Niš, as it only took about 1.5 hours to drive there.
While we were out, we stopped in a nearby town called Zajecar for some lunch. We highlighted our lunch at Dva Brata (Two Brother's) in our Week in Review: Week 15, as it was an amazing meal! Probably one of the top, if not THE top, paid meal so far on our trip. We wished we were staying a bit closer so we could go back for a second meal. We left so full, we both felt a bit uncomfortable for the next few hours.
On our last day in Niš we had a pretty easy day. We had seen the sights in the previous few days, so we really just spent a few hours walking into town, grabbing brunch, and stocking up on produce from another corner market. We had a big road trip the next day as we made our way to the southwest part of Serbia, near the Montenegro border.
Our next Airbnb was located in the Uvac Special Nature Reserve. The reserve is known for its windy canyon river, the successful preservation of the griffon vulture, cave systems, and beautiful green/blue water. We had only seen a picture of the Uvac River about 1 month before going to Serbia, so we were excited to visit this lesser known place. Even though it is a Special Nature Reserve, there are a handful of villas within the reserve where you can book accommodations. Our place was awesome! It was in a secluded area, about 100m to the river, and close to the windy river section. It also gave us the option to purchase home cooked meals from a local Serbian lady. The food was fantastic!
Our villa host recommended a boat tour that takes you through the windy river to a cave called the Ice Cave. From there, you then go on a climb up the side of the canyon for a great look out of the windy river section. We decided to do the afternoon boat ride so that the lighting in the early evening would be a bit better for photographs.The boat came and we were quite surprised by how busy it was. We expected it to be a small boat with maybe 8 people, but people were jammed on! There were at least 25 of us.
We headed to the Ice Cave first, and reached the entrance where only a handful of people were given flashlights. The cave is kept quite natural, so there are no lights or electricity throughout the cave. It is the first cave we have visited that still seemed raw and authentic, and that made it quite fun to explore. Unfortunately our guide did not speak English, and didn't really try to explain anything to us. But we still had fun wandering around!
We walked about 1km in the cave, then turned around and returned to the exit. We had to go back on the boat to reach the climbing point, but it was a short distance away. Once we reached it, the climb started. It was a pretty steep climb up. We guessed it was around 300m high, and you climbed that elevation really quickly before reaching a flat part. The whole distance was maybe 1.1km one way.
The climb was definitely worth it, and we were treated to amazing views. Just like the ones we had seen a month before. It was a gorgeous canyon, and the viewpoint from this side, called Ledeni Vidikovac viewpoint, or Ледени видиковац, was great because you could see the S-curve all the way down the canyon. We were able to stay up here for about 45 minutes before heading back down to the boat and making our way back to our villa.
The next day we wanted to do a little hike to another viewpoint. This time on the other side of the canyon so we could see the curves from a different perspective. It was really difficult to find hikes in the area, but on our Maps.Me app, it looked like there was a forest road that went from a main road to the lookout point, about 8km each way. We had to drive around the river from our villa for about an hour before we reached the forest road. The road didn't looks so bad, so we ended up driving it for about 3km before we pulled over beside a farm and cemetery. We decided to park the car here and walk, because we didn't want to risk our already weak tire on the gravel forest roads.
The walk was rather beautiful, it took us through a forest and then along side some Serbian farmland. We were quite high, so it seemed like you could see rolling hills for miles! After an hour of walking on the road, we got to the end. There were about 5 cars parked there, and we noticed that there might have been a better road to drive to get there. But we kind of wanted to hike anyways, so we didn't mind the walk.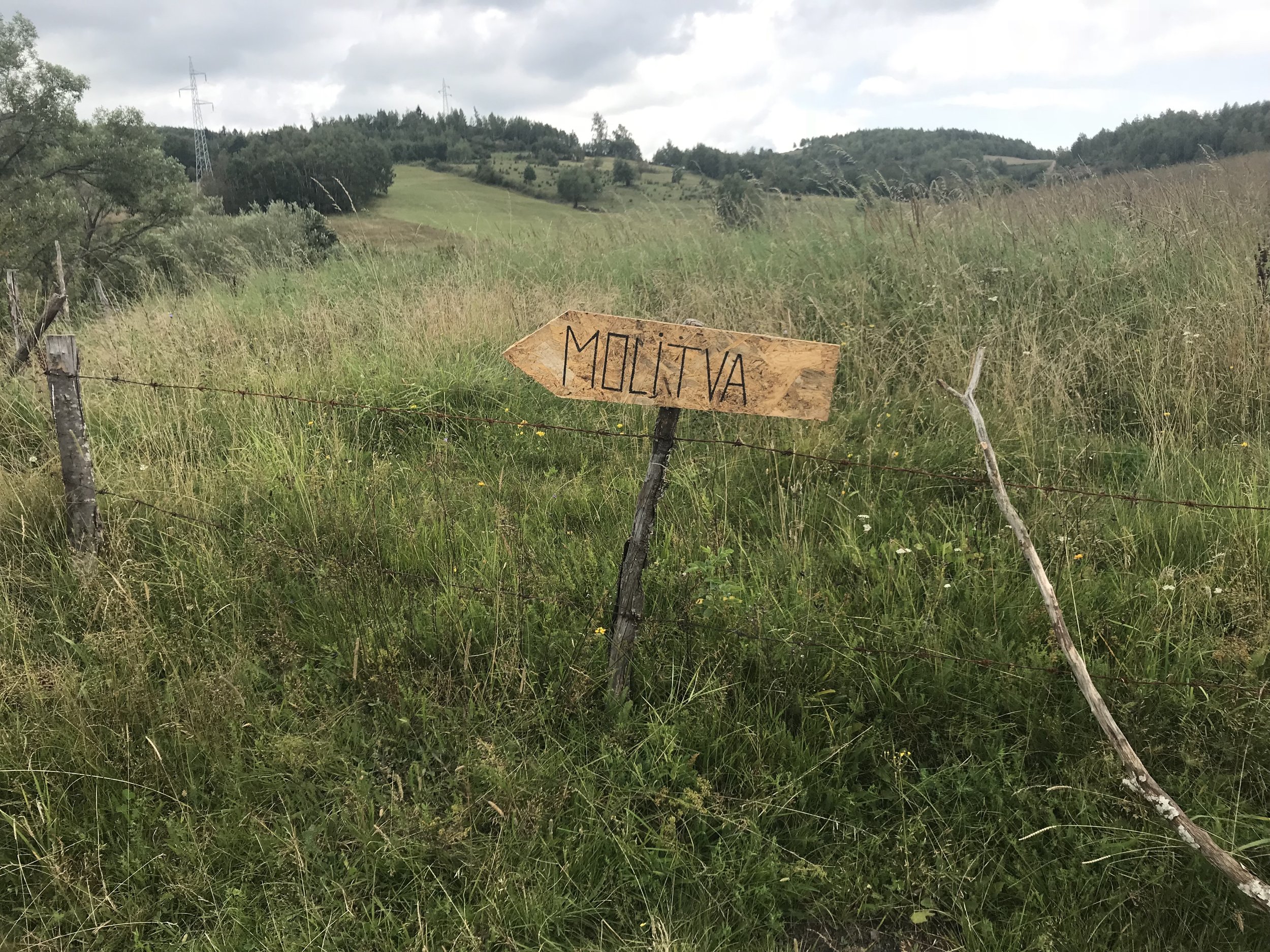 This viewpoint, Molitva or Видиковац, was really gorgeous. From here you could really see how close the curves are to each other. You can't see quite as far down the canyon, but it was fun to see the shapes of each curve. We walked for about another 1.5km along the ridge, as there is a pathway the whole way, so we followed it to get some different views. At this point in our walk we were quite happy to have Sharleen's hiking poles, as there are quite a few snakes in the area, two of which are venomous, so we did our best to use the sticks to make sure there were no snakes on our path.
The landscape was really beautiful, with meadows, wildflowers, trees, large rocks, and of course the beautiful views of the canyon. There were a few sections that looked like prime bear habitat, so we made sure we were a bit noisy. There are bears in the area and the last thing we needed was to run into one. So between looking at the views, watching for snakes, and being alert for bears, we were quite busy!
We got to another lookout spot. This one didn't have a lookout stand like the others, so we had to walk off the path towards the ledge to get the full view. It was the part of the river that had a little island, and almost made an "e" shape. It was really beautiful, and the walk along the ridge down the river was quite fun. You don't really get an option like this from the lookout that the boat took us to, so we were happy we went on this walk.
We were starting to get a little sketched out with the possibility of snakes, so we didn't stay there too long, and headed back towards the first lookout and parking lot, then onto the road to head back to our car. All in all it was about a 4-hour walk, with plenty of time to stop and enjoy the views.
The one thing we really enjoyed about the Uvac River was how undiscovered it is. In other places we have been they would have had a funicular or cable car up to the top of the canyon to see the views, but here you had to climb your way up to see them. There were also very few signs advertising the lookouts, but they were small and almost seemed like local secrets. On our second day, it really wasn't busy at all, even with the possibility to drive there. The lookout had only 3 other people on it, and if we had wanted it all to ourselves we probably could have waited an extra 10 minutes. The hike along the ridge was also really quiet - we only passed two couples in the 1.5 hours we were walking. Because of the low traffic, the site seems so natural and not touristy at all. And that was a really pleasant surprise. We both think that is likely to change in the next 5-10 years, as tourism in the area increases and the location becomes more popular. But hopefully it keeps that natural charm!
Our stay in Serbia really surprised us. We had no idea what to expect when we booked our stays here, and we were treated to great hospitality, delicious food, rich history, amazing prices, and beautiful views. We really enjoyed it and couldn't recommend this area enough!