Week in Review: Week 7
This week brought us back to Eastern Europe. We took a ferry ride from Sweden to Poland, and have been exploring Poland for the last few days. It's been great to be back in Eastern Europe. For one thing, costs are significantly cheaper which makes our wallets and Darrell happy, but we also love the food, history, and culture of this part of Europe.
After getting off the ferry in northern Poland, we made our way to Malbork for the night. After one night there we stayed in Warsaw for a few days, and are now enjoying some time in Krakow. There is so much history in these areas, especially around WWII, so we are enjoying the opportunity to see so many places we learned about in school.
Highlight of the week
Sharleen: Food. So far Poland has had some of the best food. I feel like every time we eat out, I'm getting some sort of pierogie, cabbage, and sausage dish - and of course, some sort of beer. It's an amazing combo. The food here is so simple, but so satisfying. The prices are also so reasonable, which might even help the food taste that much better. One of my favourite highlights was when we were sitting at a restaurant in the town center of Krakow, sharing a pitcher of iced tea, a cheese plate, and a Caprese salad. Not very Polish, but we had a great time enjoying our meal, and people watching.
Darrell: Malbork Castle. This castle was home to the Teutonic Knights and is now a UNESCO World Heritage Site. The castle was built up from a small convent house, and then up into a highly fortified High Castle. During the early part of the 14th century multiple rings of defences, including layers of walls and moats, were added. Once expanded, Malbork was officially the largest brick castle in the world. The castle has a bunch of different exhibits and we opted for the audio tour so we could find our way around the complex. This audio tour was definitely worth it. It knew where you were located in the buildings and would automatically start playing the tour guide's voice. It also had a small screen that would show important or hard to find doors and points of interest. Overall, the tour was very engaging and I really had a great time exploring this massive historical landmark.
Least favourite part of the week
Sharleen: Our ferry ride from Sweden to Poland. To get to Eastern Europe from Sweden, we had decided it would be neat to take a ferry. There is a 19-hour ferry that takes you from just south of Stockholm to Gdańsk, which meant we could relax and save some kilometers on our car. We had looked into this option before leaving for our trip, but we didn't book tickets as we weren't 100% sure of our plans. It was only about 2 weeks before the ferry ride that we had confirmed our date of travel, so I went online to book our tickets. The ferry is massive, so they have a bunch of suites and cabins. We opted to save some money, and decided we would get an inside cabin (no views). Well, they were sold out. Their system was actually quite archaic, you'd have to request a ticket and then they would get back to you in 24-48 hours to let you know if they could meet the request. After getting denied for an inside cabin, we decided to spend more and get an outside view cabin. Nope, sold out. We tried every option for a cabin, and each one was denied. The only option was to have reserved seats, which are basically airplane chairs. I was super bummed! I went from being kind of excited about the ferry, to totally dreading it. But it got worse once we were settling into our seats and trying to sleep. For some reason, they don't dim the lights in the areas with the reserved seating. They also don't have any curtains on the giant windows. During this time of year the sun only set around midnight, and rose at 3:45 am, so with the sun and the lights on, it was completely bright the whole time. On top of that, they had a TV blaring well past 2 am. It started with a loud Polish game show, and then played some exorcist type movie – full of nudity and horror scenes. At that point we were just laughing at the whole situation, but it was kind of sad because there were a few kids in the row right in front of the TV! By 2am, someone had finally found a way to turn off the TV, so that was awesome. But I only got maybe 2.5 hours of sleep all night. I felt like I was counting down the hours the whole ride. Because we were one of the first cars to board the boat, around 3pm in Sweden, we were on the boat for 22 hours – almost a whole day! The only positive thing about the ferry ride was getting to see the sunset and sunrise. It was really beautiful! The food was also surprising good and priced reasonably, so that was nice as well.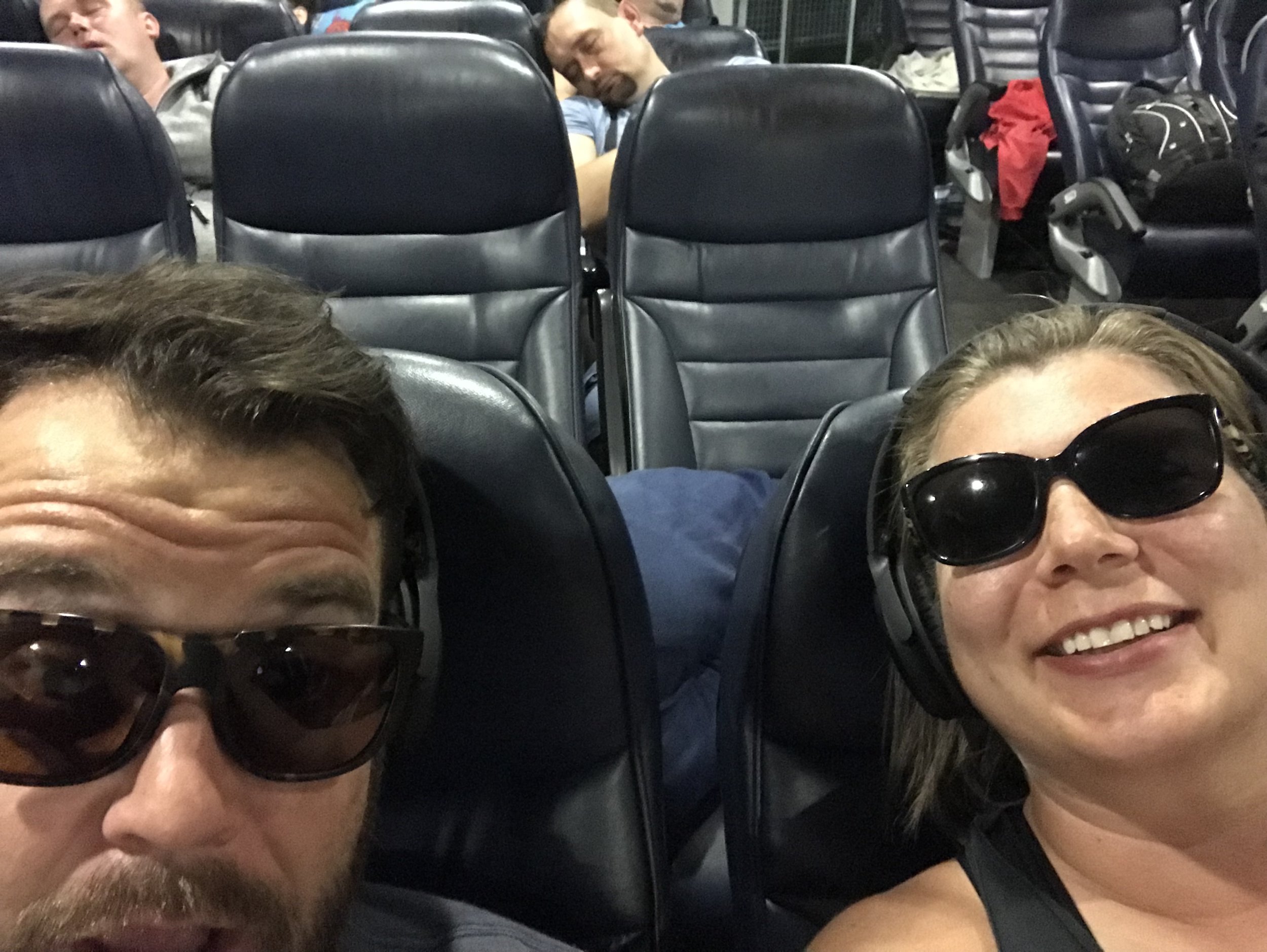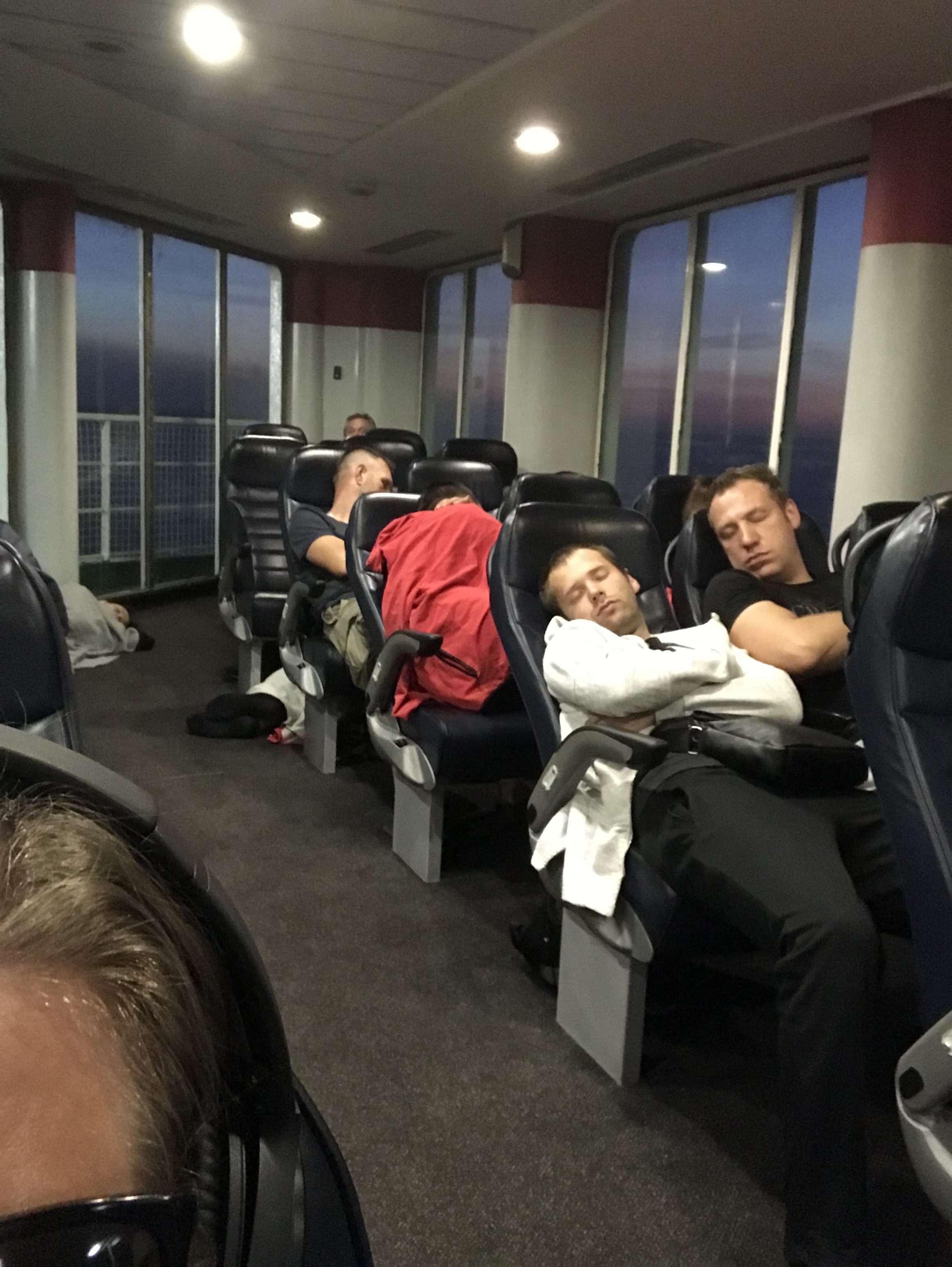 Darrell: Sweet knee injury. Unfortunately, this week I got the first real booboo of our trip. We had been exploring Warsaw, and it was a beautiful sunny day when we started, but over our lunch we could see some dark rain clouds rolling in. I blame it on Sharleen, because literally an hour before lunch she said something like "It would be nice to have one rainy day so we can just chill inside". Well, after our lunch it started to sprinkle, and it only took about 10 minutes before it was full on raining. We decided to go up one of the observation towers to escape the rain, and maybe get a few pictures of the city. It was quite cool while we were up on the tower and we could see the rain moving in. Some buildings in the distance were full on disappearing from how hard the rain was coming down! After 15 minutes on top of the tower we decided to head down, as we didn't want to be caught up there when the rain really started to pour. Once at the bottom of the tower, we had to walk about 200m to catch a tram. The sidewalks are made of really nice stone blocks, which can become a tad slippery when wet! We had made out just fine until we had to go down the last flight of stairs, and I totally bailed on the last 5 steps. When I ate it, my right leg twisted in the wrong direction and it went under my body while I was trying to stop from falling. My knee didn't hurt at first, but later that evening and into the night it was crazy painful to move. Fortunately, we were staying in an apartment that was right beside two pharmacies, so we went down the next morning and found two awesome knee braces. It's amazing how much of a difference the brace makes! Ironically, we have noticed a bunch of people here in Poland have been wearing knee braces, so it must be the cool thing to do here. I'm sure it's just because it's more obvious to us now, but I like to think I am basically a local!
Favourite city/town/village visited
Sharleen and Darrell: Krakow. We've really enjoyed our time exploring Krakow. The city is busy and lively, and surrounded with so much history. Our Airbnb is in a great location, about a 20 minute walk to the town square, and right behind the Historical Museum of the City of Krakow (located in the Oskar Schindler enamel factory). As we walk to the town square, we walk through the areas of the Jewish Quarter, the Jewish Ghetto, and the Old Town. Having studied WWII in school, it's so interesting to be right in the city where the war began. Our tour of the Historical Museum of the City of Krakow gave us some perspective into what it was like to be in the city from 1939-1945. It was quite fascinating to see what the city had gone through, and then to see what it's like today.
We really enjoyed walking the streets of Krakow. There are so many beautiful churches, gothic towers, statues, grand buildings, and a castle. We've notices that most major buildings in Poland are made of red brick, which is so beautiful to see, especially when it's contrasted with the deep blue sky. There are also quite a few colourful buildings within the Old Town and around the town square. We love the way the different colours and structures add so much character to the city centers.
Krakow is also located very closely to a few other tourist destinations in Poland, the most popular being the salt mines of Wielicka and the Auschwitz Museum. Both places we will visit during our time in this beautiful city.
Favourite meal
Sharleen: Pierogies (Perogies)! As mentioned in my highlight, all of the food has been so good, but I seem to be drawn to pierogies. I've almost had them every other day in Poland! I've tried baked ones - which are larger than normal pierogies and have a drier texture, but my favourite has been the traditional boiled dumplings. There are so many fillings, but my absolute favourites have been the onion, bacon, potatoes and the cabbage and potato fillings. I'm definitely getting my pierogy fill while I can!
Darrell: Bigos. It's extremely easy to develop an appetite when you are constantly walking by cafes and Mom and Pop restaurants lining each and every street! I took a quick look through the Trip Advisor app to see where we could get some good pierogies and it led us to a place called Zapiecek. Their menu was full of a wide variety of foods, some even labelled with "Winner of Culinary Competitions". I mean how could you go wrong? I ended up not ordering pierogies, but Bigos instead. Bigos is a Polish dish that consists of various meats stewed with sauerkraut and shredded cabbage. It was amazing! It was full of flavour and is basically the epitome of comfort food! To experience even more Polish classics, we each started our meal with a cup of soup. One cup of beetroot soup and one of Polish sour rye soup, both of which were amazing! The food in Poland has not disappointed!
We can't believe its almost been 2 months! We are looking forward to this next week as we head to Austria.