Week in Review: Week 27
This week we made our way southwest to the town of Oban. It was the perfect place to station ourselves so we could explore the Argyll and Isles part of Scotland. It seemed like the day trips from here were endless, and we really enjoyed exploring the area. While staying in Oban we were minutes away from the coast and we loved walking along the docks and watching the ferries come and go. We were also just a 30-minute drive to the beautiful Glencoe Mountains. This place may look familiar as quite a few famous movies have been shot here… Harry Potter, James Bond, Braveheart, and Monty Python to name a few.
We were also able to experience some pretty great whisky tastings at the Oban, Tobermory, and Springbank distilleries. They were some of our favourite distilleries so far on the trip! Although we are heading to the Isle of Islay next, so our tasting tour is likely just getting started…
Highlight of the week
Sharleen: Isle of Mull. All I knew about the Isle of Mull is that it is known for its cheddar cheese. Since we were staying in Oban and there is a 45-minute ferry ride to Mull, we decided we would head over for a day trip. The Isle really surprised me, and our day there was awesome! We are travelling in the off-season, but the Isle was still tourist friendly and we were able to do quite a few great things. The Isle of Mull Cheese Farm was closed, but they offer a self-service model so we were able to visit the shop and purchase some fantastic cheese. We also did a self-guided tour, which was surprisingly really fun! We were the only ones there, and it seemed like the cows and calves were excited to have some visitors. From there we headed into the town of Tobermory to grab some lunch and visit the Tobermory distillery. We had a great time at the distillery, and so far it is my favourite ones.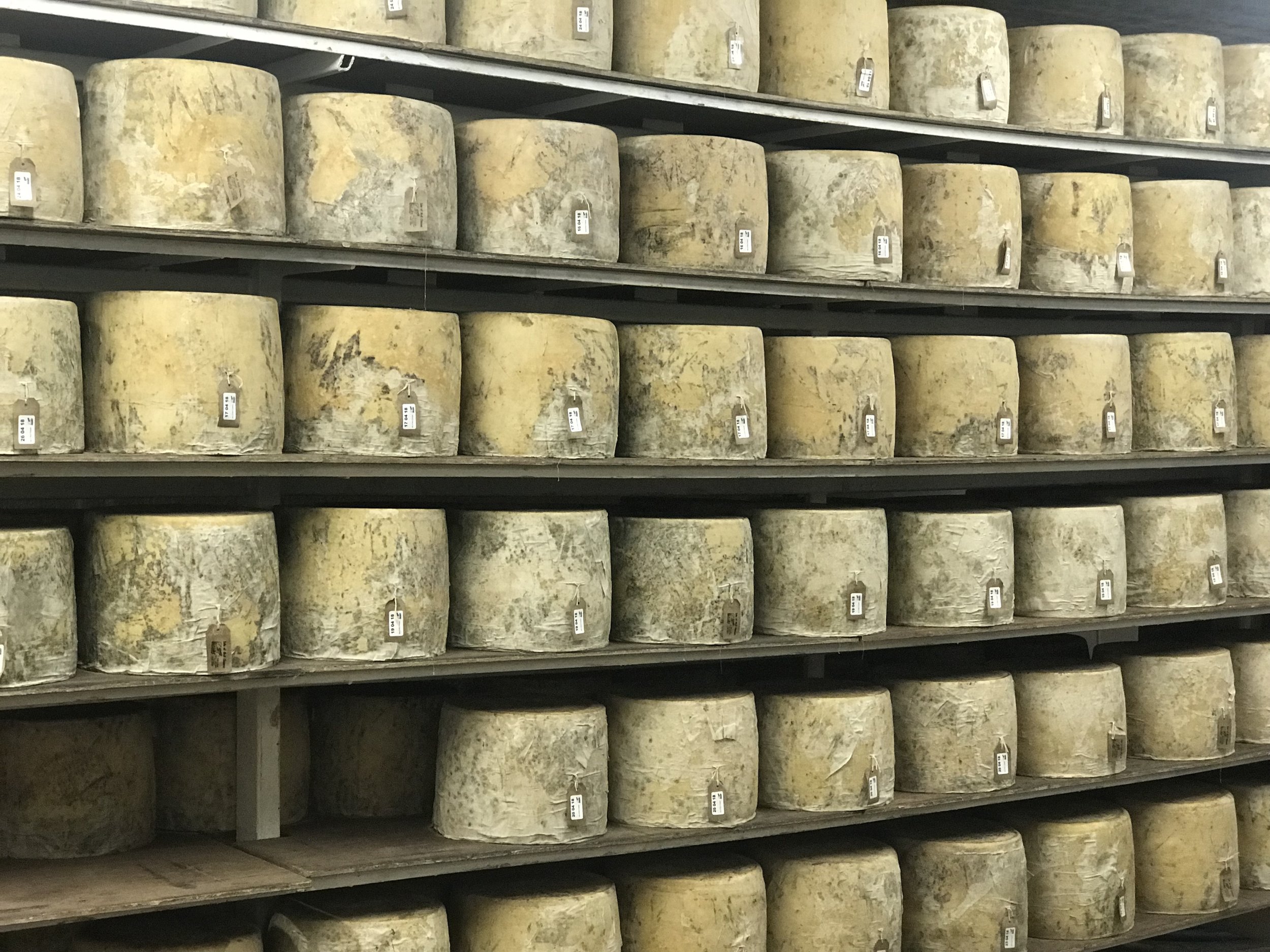 The Isle of Mull also has the original Calgary. It is the location that Calgary, AB Canada is named after, so it was pretty cool to drive to the Calgary Bay and walk along the beach. I have to say it didn't remind me of Calgary, AB at all!
To top off our Isle of Mull visit we saw some beautiful Highland coos on our drive on the west side of the Isle. They were so adorable and really friendly. As soon as we walked up to the fence they came right up to us and started to lick us. It was pretty cute!
Darrell: Warehouse tasting at Springbank Distillery. We visited a couple of different distilleries this week, which were really great experiences. While on one of our day trips to Campbeltown, we visited the Springbank Distillery and rather than doing the standard tour or tasting, we opted to do something a bit more special and we choose to do a warehouse tasting. This is a tasting that is led by a guide and takes part in one of the many storehouses, which are where the casks of whisky are kept during their maturation. The tasting consisted of our super friendly guide Donald opening each cask, taking a sample straight from the barrel, and pouring it right into our tasting glass for us to enjoy. We have done tastings before, but nothing that was from a single cask which are one-off samples. Basically, once those casks are emptied from different tastings, that whisky will no longer exist and no one else will ever taste it. I definitely can imagine doing the same kind of tasting in Italy and France, but with wine, and I couldn't be more stoked for that!
Least favourite part of the week
Sharleen: Getting a hole in my wellies. In Edinburgh we purchased some rain gear, and I totally fell in love with my rubber boots (wellies). I wear them often, especially on our driving adventures, as we usually pull over and walk around in boggy areas. On the Isle of Mull one of the last spots we visited was a standing stone circle. I was quite excited to go see it, but it was raining and I needed to walk about 500 meters to get to the stones. I headed out down the path, which was basically all swampy and wet. Within 2 minutes my right foot was soaked and I knew I must have gotten a hole in my wellie. I was pretty bummed because I loved the style and they fit really well. I found another pair here in Oban, but they just don't seem as great. So not only did I have to replace my wellies, I had to miss the standing stone circle because walking there without boots would have been a nightmare!
Darrell: Still trying to feel better. Although I was sick over a week ago now, I still feel like I am not 100% back to normal. I'm not sure if it is still lingering effects of the infection I had, or a slow recovery from the antibiotics I took, but I just am not 100%. Maybe it's because we have a very different daily routine when travelling when compared to being at home that is holding me back a little bit. When we get sick at home, you might miss work for a few days, but then you get back into the swing of things, with the same time that you wake up everyday, or daily tasks that you have to complete. None of this really exists while travelling. We kind of wake up whenever (unless we have to be somewhere for some reason, which is uncommon), drive or walk around all day, and then go to bed. There really isn't any structure, which is maybe why I feel like I haven't gotten my mind off of being sick and just gotten over it. Hopefully this next week will be a solid turning point and I'll be good to go!
Favourite city/town/village visited
Sharleen: Oban. I had no idea what to expect in Oban, and it turned out to be such a great place! As mentioned in our intro, it is perfectly situated to explore nearby isles, Glencoe, Campbeltown, and even Glasgow. The town itself is very quaint, and perfect for a day or two of walking around. We loved walking along the coast watching the boats and ferries, shopping along the main drives, and walking up to McCaig Tower. It was a great town to stay in, and our 5 full days here flew by!
Darrell: Tobermory. This is one of the main towns on the Isle of Mull, and it really reminded us of a mini Oban. It also sits right on the coast and has a lively main street full of shops and cafes. All of the buildings along the shore are colourful, which brings a lot of character to the small town. We grabbed some lunch from a fish and chip shack right on the dock – it seemed like the perfect lunch to enjoy in this small coastal town.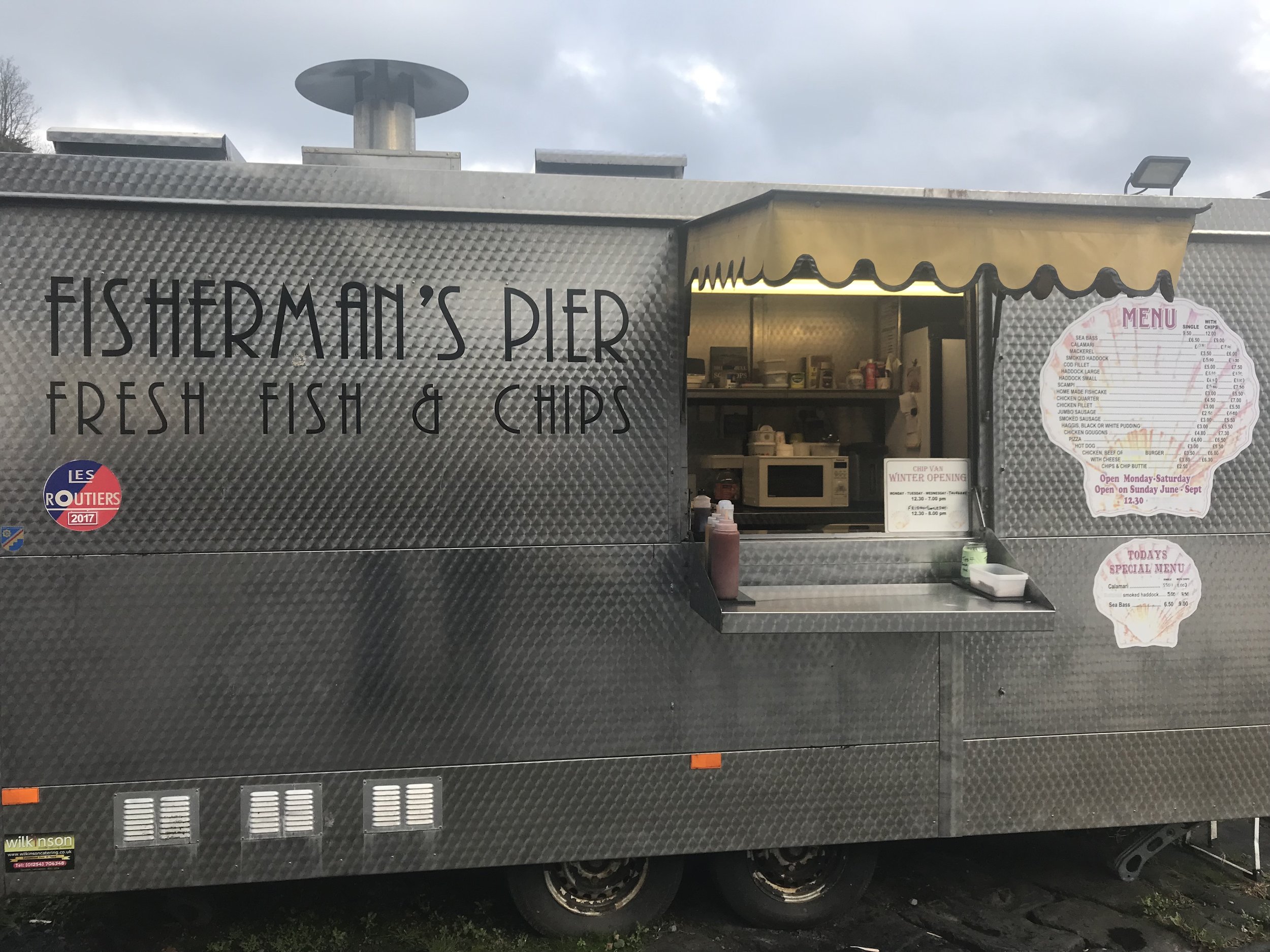 Tobermory Distillery is also located in the town and is the only distillery on the Isle of Mull. We had a great time visiting the distillery and really enjoyed the great customer service. We tasted 5 whiskies and really loved every single one of them! So much so that we bought our first full sized bottle of whisky from this distillery.
Favourite meal
Sharleen and Darrell: Fish and chips at the Oban Fish and Chip Shop. We've had fish and chips quite a few times since arriving in the UK, but hands down the best has been from the Oban Fish and Chip Shop. We would go as far to say that it is the best fish and chips we have ever had! It tastes so fresh, crisp, and not greasy at all. In other places we have tried their fish and chips but have found them to be a bit heavy or greasy, but that was not at all the case here! We loved it so much that we ate them twice while in Oban.
We are amazed by how quickly time is flying by while we are in Scotland. We only have a few more weeks left! Our next few days will be spent on the Isle of Islay, where some of the most famous Scotches come from. We definitely have a few distillery visits planned! We are also staying in a gorgeous hotel called the Islay House. We are looking toward to a bit of luxury!