Bruges – Why This Fairy Tale Town Deserves More Than a Day Trip
Bruges, or Brugge in Dutch, is a small city in northern Belgium. It is about 1.5 hours from Brussels, and close to the coast of the North Sea. Its location makes it a popular day trip for tourists and cruise ships, however it is definitely worth at least a few days to fully explore this fairy-tale city.
We fell in love with Bruges within minutes of walking its medieval cobblestone streets. We were in awe of how medieval and well preserved the city is, the beautiful architecture, the numerous gothic towers throughout the skyline, and the charming cobblestone streets. In other cities we have visited, there are typically one or two streets that have these charming characteristics, but then the rest of the city looks relatively modern – but this was not the case in Bruges. The whole city centre was like this, blocks and blocks and blocks of it, making it feel like it was untouched from the 1600's. We loved the romantic feel of the city, and we were so excited to be spending 2.5 days exploring it.
Bruges was a bit of a last minute decision for us, so all we knew about the city was that we had to have waffles, beer, and chocolate. This is likely the same thing most tourists come here for, however they are missing out on other great experiences in the city. During our two days we really explored as much as possible, but we only scratched the surface of what this place has to offer. Here are some of our highlights and must do's while in Bruges.
Eat, drink, and be merry
As mentioned above, this is one of the most popular attractions in Bruges. A trip to Bruges would not be complete without snacking on some waffles, chocolates, and mussels and fries. And you must wash it all down with some delicious Belgian beer. All this food is reason enough to spend at least two days here!
We found some pretty awesome places during our visit. For waffles, we wanted to skip the touristy stands on the street corners and go with an authentic Belgian waffle experience. We found rave reviews online for Lizzie's Wafels, so we headed there for a late breakfast. We had been previously warned that Belgian waffles can be quite sweet, so we decided to go simple with our toppings. We each got a waffle with a side of warm cherries, and Darrell added a side of whipped cream to his. OMG these waffles were amazing! Hands down the best waffles we have ever had. Firstly, they were huge. We easily could have shared one. But they were so delicious we were happy we had our own. The waffles were perfectly made, and the sourness of the warm cherries and the fluffy whipped cream made a very tasty combination. We savoured every delicious bite of these waffles.
For our Belgian chocolate experience, we wanted to try some that would be as authentically Bruges as possible. All the souvenir shops sell some sort of "Belgian Chocolate" but we were interested in finding a chocolatier. We landed on Chocolaterie Dumon, a family business in Bruges making chocolates by hand everyday since 1996. The selection in their store is huge, and all of the chocolates are small pieces of art. Fortunately they have prepared variety boxes, so we picked one with a milk and dark chocolate mix and enjoyed snacking on our huge 500g box over our few days in Bruges.
Mussels and fries (or moules frites) is a must try in Bruges. We were looking for a place to grab lunch, and were fortunate to just walk into one of the best places in town to get this delicious meal – Poules Moules. We each ordered a mussel dish and were shocked by the quantity! The portion was huge, way more than we expected, and the quality was great! We loved our meal, and can definitely understand why it's so popular. Darrell went for a classic white wine sauce, while Sharleen got a green Thai sauce. Both were great!
Last but definitely not least, you need to taste some Belgian beer. During our time in Bruges, this was Darrell's highlight of the week (click here for our Week in Review: Week 21). The Belgian beers are so different from other European beers, and we are both huge fans. We started our Belgian beer experience by enjoying a 12 beer flight at Bieratelier. It was a perfect for sharing between the two of us, and was a great way to try a variety of Belgian beers.
Another one of our favourite places was Café Vlissinghe - the oldest pub in Bruges dating back to 1515. This little gem was close to our Airbnb, and we went there with David, our Airbnb host. The pub is so charming. Inside there are board games, cozy seating areas, and old playing cards and memorabilia framed on the wall. It also has a huge garden patio full of trees. We just had beers, but the food there looked amazing as well!
Our absolute favourite place for beer in Bruges was 2be (The Beer Wall). The location of this bar is perfect. It sits along the popular canal, which makes it great to enjoy the water views and people watch. We arrived close to 11 am to spend our last hours in Bruges here before we left for the UK. We easily sat here for 2 hours, and did not want to leave! In addition to its location, this place has a couple of cool features. First, their beers come in the coolest glasses! Half of the fun in ordering was finding beers that were served in unique glassware. Second, they have a huge beer wall, which makes for some fun photos. And third, their bathrooms have crazy fish tanks in the sink!
The beers were great, the views were picturesque, the bartenders where friendly and knowledgeable, and we had the perfect fall weather. It was the best way for us to wrap up our amazing time in Bruges.
Get lost on the beautiful cobblestone streets
The Historic Centre of Brugge isn't very large, so it's fun to put away Google Maps and get lost on the cobblestone streets. This is the best way to escape some of the popular tourist destinations and explore the real Bruges. Our favourite places were the lesser-known canal crossings, seeing beautiful houses with red vines along the siding, and seeing beautiful churches.
We also loved exploring the city in the morning and evening. Since most tourist visit Bruges during the day, the streets and shops are quite busy between 11am and 6pm. We found that if we started the day leaving our Airbnb around 9 am, the streets were calm and quiet before the tourist rush came around 11 am. It was an awesome time to explore the city without crowds! The same goes for nighttime. It's a little busier up until sunset, but after sunset the streets are very quiet. The city lights up at night time, so the views are just as beautiful in the dark!
Because Bruges' city centre isn't very large, you will no doubt stumble upon some of the popular sites as you wander the streets. If not, make sure you visit them before you leave!
1. Markt – home of the Belfort, the Historium, Provinciaal Hof, colourful cafes, and cute shops. This was one of our favourite places to visit in the morning, as it was absolutely empty until around 10:30 am. It was the perfect time to enjoy a coffee on a patio and take some photos before the crowds start to roll in.
2. Bonifacius Bridge – a pedestrian bridge with views of the canals and gothic towers. It was a really romantic spot, and if you time it right you may be able to have the place to yourself for a cool selfie. This is a very popular location though, so it's ideal to visit earlier in the morning.
3. Brugge Fotoplaats – This just translates to Bruges Photo View. It's the famous canal viewpoint and located right across from the 2be bar. We loved the view here, especially at night. It's really worth staying the night in Bruges just to see this place light up at night! It was so nice to walk along the canal and take in the romantic views.
4. Bruges Plastic Whale – This is a large whale sculpture at the end of the canal near Jan Van Eyck Square. It was constructed out of 5 tonnes of plastic waste found in the ocean.
5. Huis Ter Beurze – Bruges is home to the first stock exchange, dating back to 1415. You can see the building where the first stock exchange was, and although it doesn't look like anything special and is easy to miss, it is worth seeing for the historical importance.
6. Windmills of Bruges – There are 4 windmills dating back to the 18th and 19th century along the canal on the east side of Bruges. They are in a lovely park, and it takes between 30 mins to an hour to walk to all four of them (depending on how long you stop to take pictures). All four of them are unique, and some are still operational. It was a fun walk and definitely worth seeing! We visited in the late morning just before lunch. Since it is about 1.5km away from the busy Markt, it isn't very popular among tourists, so it is a great place to go to escape the crowds.
7. Visit a museum - Even though we had 2.5 days in Bruges, we ran out of time to visit their great museums. If you have time, the museums we wished we could have seen are: the Historium, Beer Museum, and the Frietmuseum (French fry museum).
There are so many things to see, and most are worth seeing during the day and at night. Over our 2.5 days we covered a lot of ground, but still didn't see everything we wanted to. Again, another reason why you need to spend at least one full day in Bruges!
Spend at least one night in the Historic Centre of Brugge
When you visit Bruges, a stay in the city centre is a great experience. You are close to all of the sites, near the canals, and walking distance to everything you want to see. For our stay we had an awesome Airbnb. Our hosts were some of the best we have stayed with, and it made our time in Bruges so perfect - here is a link to their posting. They taught us so much of their beautiful city! Some of the interesting Bruges facts we learned from them helped explain why Bruges has such a charming vibe:
1. Since becoming a UNESCO Heritage Site in 2000, no new buildings can be constructed in the Historic Centre of Brugge. There are almost no hotels and only a handful of modern buildings (which were constructed prior to 2000). This helps preserve the medieval gothic architecture of the city.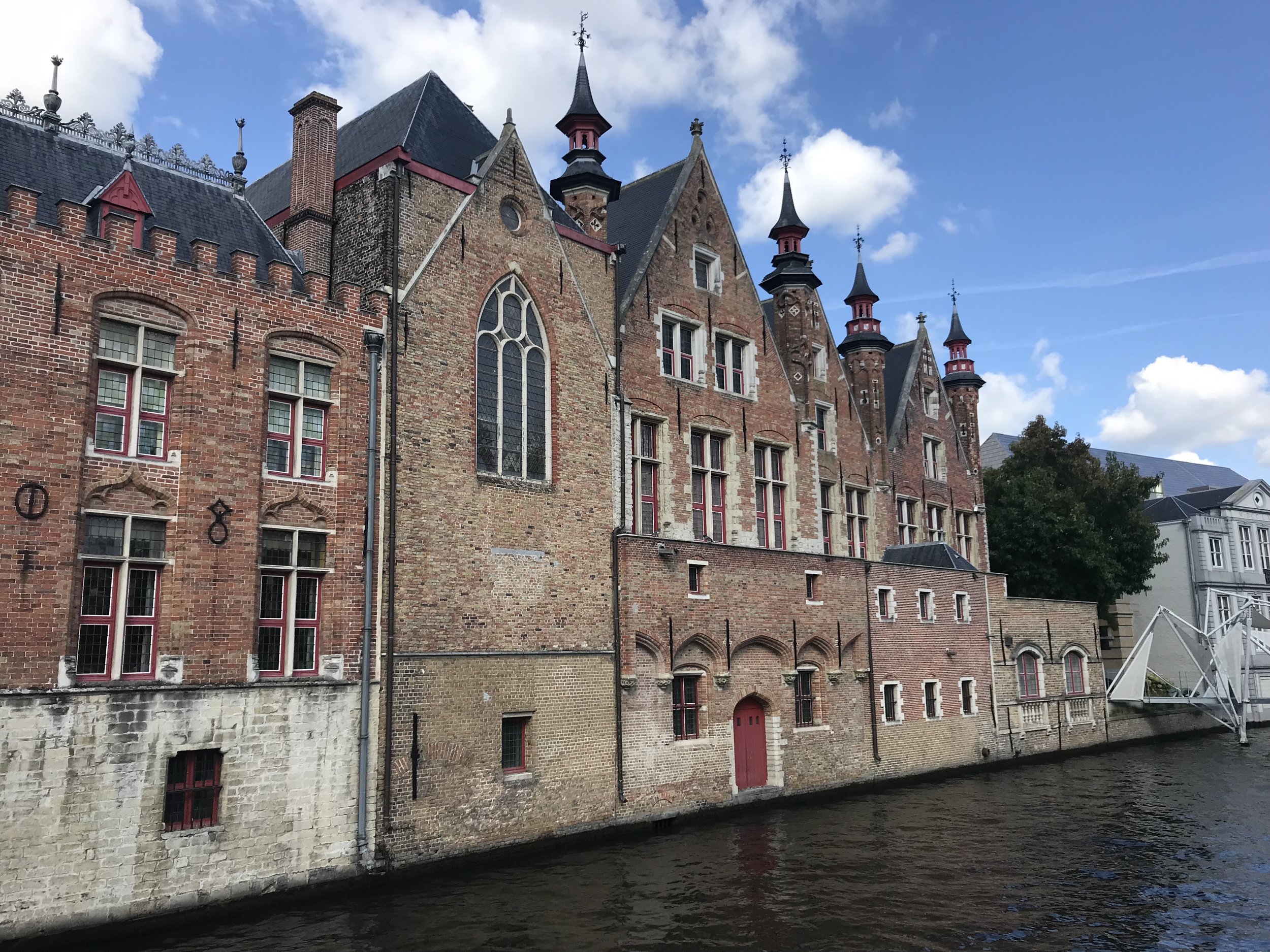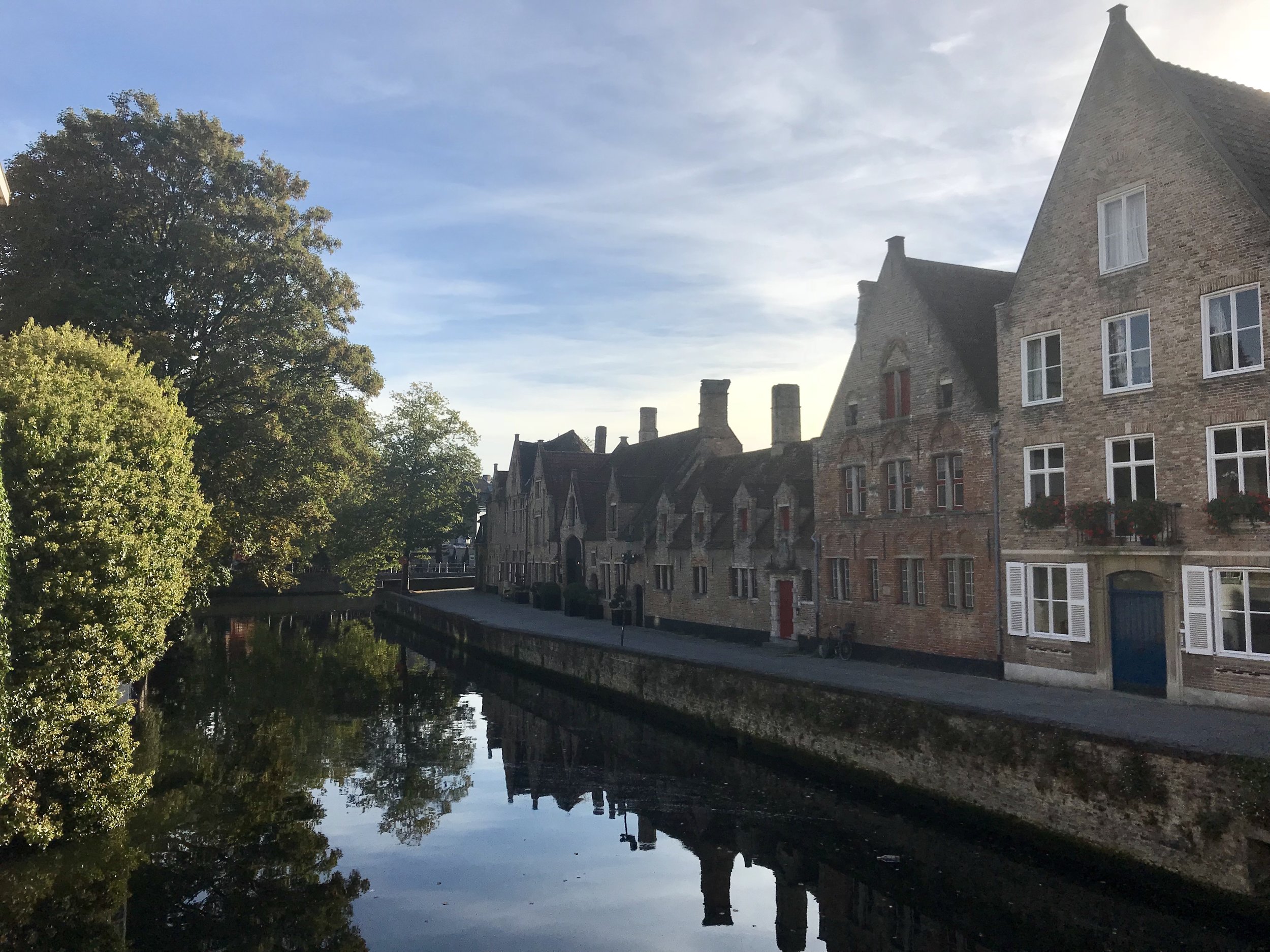 2. All houses in the Historic Centre of Brugge need to follow a strict 16 colour guide. All of the houses in the city centre are only able to choose from a selection of 16 colours when decorating the outside of their house. We believe they are also only limited to two choices. The 16 colours allows for diversity, however everything matches very well together, helping to preserve the character of the city.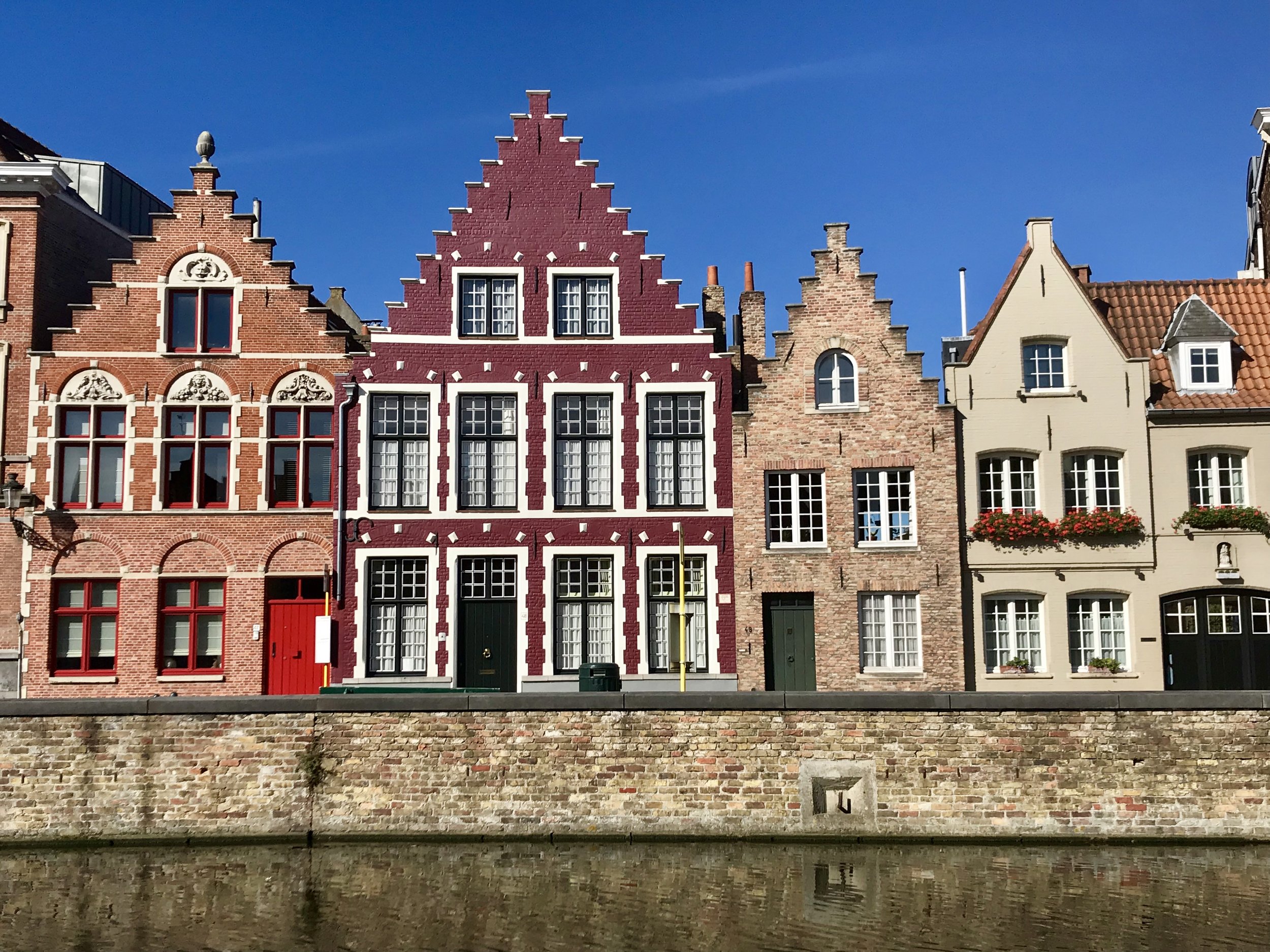 3. Airbnb and B&B rules are very strict. As a resident, you are able to have an Airbnb or B&B, however there are some rules that you don't encounter in other cities/countries:
a. Property owners must live on the site of their income property and the room must be in your residence – which means all Airbnbs are private or shared rooms – no entire place stays.
b. All property owners can have one income suite – but only one.
c. Individuals staying in the Airbnb or B&B are not allowed to have access to the kitchen – due to limitations on fire insurance coverage. This one was so interesting to us, as we always look for Airbnb's with a kitchen, but we found it impossible in Bruges! This explained why it was so hard to find, and why most places provide breakfast for their guests.
These are just a few interesting facts we learned from our Airbnb hosts. One of the things we loved about Bruges was the great connection we made with our Airbnb hosts. Since you are staying in their home, there are great opportunities to connect and get to know each other. This was particularly great with David and Yuliana as they are also passionate world travellers who had so many tips and stories to share with us.
We loved our time in Bruges. It is definitely in our top three cities so far on this trip, and a place we would recommend to anyone visiting Europe. For us, three nights was the perfect romantic getaway, and the city checked all of the boxes we hoped to find in a European city. Gothic architecture, charming streets, houses with character, loads of walkable cobblestone streets, bicycles everywhere, delicious food, picturesque canals, colourful squares, beautiful skyline, and friendly people. It was the perfect European city!